In my first month at McGill, I got queerbaited. I started talking to a guy right after moving into residence. As we got closer, he asked with increasing frequency who pinged on my 'gaydar.' I had only come out as COVID-19 was declared a pandemic, so meeting other queer men was high up on my 2021 agenda. Naturally, I had a vested interest in seeing where this new connection would lead.
A week and a half later, he expressed his surprise that I had believed him when he told me that he was into men. After throwing myself a commensurate pity party (a lot of sangria and Phoebe Bridgers), I reset my sights on my objective: To find out where the actual queer men of McGill dwell. Three years later, I still haven't located them. Equally for my sake and for that of anyone else faced with my affliction, I've undertaken the task of finding these fabled creatures on campus—if they exist at all.
It's not as if I don't know any queer men. The issue is that these connections are rare, and I tend to meet them one at a time. I don't feel that I have a community, but rather connections with queer men in otherwise disparate spaces. Of course, this is my personal experience, and it might not reflect the general sentiment of queer men at McGill—ironically, I don't know enough of them to get an appropriate sample. Thus, take my words with a grain of salt.
Finding my communities at McGill is, in many ways, easier for me as a white cis guy. I'm also close with many queer women, trans and non-binary people, and I deeply value those relationships and shared lived queer experiences. However, the absence of people who share both my sexuality and gender—those who can most closely understand my experience of these huge parts of my identity—is something that I feel sharply.
I'm looking for social settings centred around McGill undergraduates. Additionally, they must be both offline and communal. While online relations and communities are certainly valuable, I am searching for physical spaces where connections are organic, not strictly facilitated. I'm not trying to find one-to-one connections, but spaces where one can enter reliably and inclusively to foster them for social, romantic, or alternative endeavours.
This definition excludes dating and hookup apps like Tinder and Grindr. I am not necessarily searching for love—I am searching for consistent community. If I have engaged with you on one of these and it hasn't worked out: It's not you, it's the app.
With these qualifications established, I now set out into terra incognita: What queer spaces are available to me at McGill?
Much of my information on McGill queer organizations comes from the online-accessible LGBTQIA2S+ McGill Student, Faculty, and Staff Activism exhibit, curated in 2022 by McGill Institute for Gender, Sexuality, and Feminist Studies (IGSF) assistant professor Alex Ketchum and Jacob Williams (BA '23). Beyond its usefulness to me, it is an excellent jumping-off point for any interested in McGill's queer past and present.
There is, of course, Queer McGill: The university's student-run queer organization. They operate and promote a variety of services across Montreal for McGill's 2SLGBTQIA+ population.
"Our communications coordinator, Frida, sends out a weekly newsletter and is also responsible for our social media. They will frequently boost initiatives led by groups with a similar mandate to ours," Administrative Coordinator Abe Berglas explained in an interview with The Tribune. "Our events coordinators, Isabel and Val, are planning a variety of social events so that queer students and community members can congregate. Finally, our resource coordinator Arwyn ensures that our office—room 432 in the SSMU building—is an accessible space for queer folks to exist on campus."
Some faculties have their own queer social clubs, such as OutLaw at McGill for Law, Queer Engineer for Engineering, and HealthQueer Professionals for Medicine and Dentistry—though unfortunately, there is no such group that I could find in my beloved Arts faculty.
Beyond my definitively social options, there are several academic and activist groups that could bear fruit. The IGSF facilitates the Gender, Sexuality, Feminism, and Social Justice minor, as well as the Gender, Sexuality, and Feminist Studies (GSFS—not to be confused with the GSFS acronym of the minor) major and honours option. These programs provide opportunities to learn about queer history and contemporary theory. However, it would be overly presumptive to suggest that queer people compose their student bases to any great degree; to my knowledge, no census exists that breaks down McGill's students by sexuality and department.
The Union for Gender Empowerment (UGE) advocates and gives support to all gender identities, emphasizing trans and non-binary allyship and gender-affirming care. Collaborating with Queer McGill, UGE runs the Trans Patient Union, which champions and assists trans and non-binary patients in their medical care experience in Montreal. While these groups are not necessarily social spaces, they are useful for queer, trans, and non-binary McGillians as resources and involvement opportunities.
I have done all this research into these potential community sites. Logically, I should go to all of their events to see if queer men are actually there; and yet, I find myself immobilized by incertitude in my own investigation. Why am I not as enthusiastic about this next step as I feel I should be? Something about my study's setup feels wrong, but I cannot quite place it, so I run it as a thought experiment before I actually embark.
What if none of these events offer the connection I am searching for? Well, then I must start looking for places that are "queer-inflected," in the words of IGSF/Cultural Studies associate professor Alanna Thain.
"It seems to me that a lot of [queer spaces are] still very much organized around activism, but also art. Art spaces are [...] those kinds of spaces as well that can foster community in connection with other kinds of community," Thain explained in an interview with The Tribune.
So maybe I take this next lead and follow it through—I peruse every art space McGill has to offer, I attend every queer activist event I can. What if that doesn't work? Then I'll start going to study spaces, bars, see if they're there. What if I don't find them there either? Or at the next thing? Or the next?
How many rocks am I willing to upturn for this?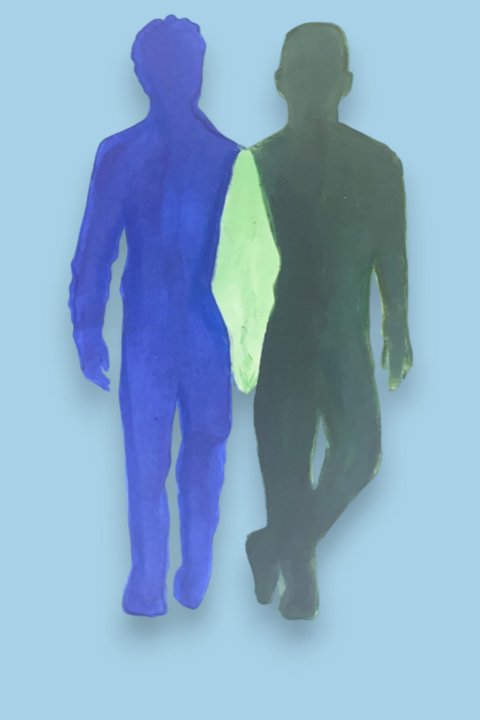 I may seem overly pessimistic. Very well; let us flip the results. Let us say that I find an ideal community of queer men at the very first event. Strangely, this also feels unsatisfactory. Queer men are not hidden objects to be found, their sightings reported in the local paper. I would need to ask countless strangers their sexualities as confirmation—an uncomfortable proposition. How would I even qualify a finding? How many queer men would need to be there, what proportion of the room? Above all, no matter the outcome, it wouldn't address my underlying frustration. I should not—nor should anyone, of any identity—have to wait three years, let alone undertake a journalistic investigation, just to find people who share my experiences.
Such negativity crumples the heart. I fear that this investigation is a downward spiral, one I wish to avoid myself, much less report to others. I need to change what I am looking for and instead try to address the root of the problem: Why is it so hard to find queer men at McGill?
From the start, there could be a numbers problem. According to McGill's 2021 enrolment report, our student population is roughly 60 per cent female and 40 per cent male (as a side note for all these statistics, the report only discusses gender in terms of "male" and "female"). This disparity holds true for nearly all faculties, with the exceptions of Engineering (67.5 per cent male) and Music (58.1 per cent male). My faculty, Arts, is approximately 70 per cent women. For those wishing to commit to this numbers-based approach, you can always switch faculties; alas, my passions lie in my English major, even if the men do not. Regardless, the stats suggest that at least to some extent, queer men are hard to find at McGill because men are hard to find at McGill.
Cultural forces may also be at play. While in my experience, my home department of English does not shy away from discussions of gender and sexuality, not every department may be so open.
"I feel like my program, [Civil Engineering], is very heteronormative and […] more traditional," Kiki He, U2 Engineering, relayed to The Tribune.
"I know a lot of men in my program, but [they] are not really open about their private lives," she explained, adding that international students may be more reticent as well depending on their cultural upbringing. Some may need to strike a balance between cultural communities or organizations at McGill—which might not discuss or even tolerate queerness—and queer ones. Many queer McGill men may be unaware, closeted, or uncomfortable with expressing it publicly—much less willing to form a community—because of the culture around them at home or at school, whether that be academic or otherwise.
Other McGill students may simply be unaware of what opportunities there are, or perhaps those spaces do not provide what they seek.
In an interview with The Tribune, U2 Arts student Gregor McCall said, "When I've talked to [my queer friends] about [queer spaces and community], they kind of feel that there aren't a ton of queer spaces that they feel truly involved in [...] or like, even if they kind of want to be [involved in them]." Obviously, this does not speak for everyone, but I can personally attest to wanting a space that is, as McCall said, "A little more specific [...] so that [my friends] know other people who identify in a similar way."
These explanations are evidently anecdotal. However, in the absence of asking the men that I cannot find why I cannot find them, these ideas can compose a workable hypothesis with which to solve the present conundrum. The number of guys at McGill and their cultural backgrounds is outside of student control, but we can change departmental cultures, and we can create new clubs and events, work with old ones, boost their reach to break cultural silences and ensure that all who want to listen can hear.
McGill has had wildly successful queer events before. In the seventies, Gay McGill (a precursor to Queer McGill) ran dances both in the now-SSMU building and at other venues which, according to Thain, attracted a large queer community both from McGill and across Montreal. Similar events have been run in more recent years as well, such as the UGE's Librarian Dance Party, an event that recurred annually from the 2000s to the 2010s. Gerts, our beloved student bar, was founded and heavily populated by queer men in its early '90s.
So, there are some leads to chase on the shortcomings of our current community, and historical models we can build from. Changing faculty cultures is a deeper task, but something that can and must happen from within them. With these rough sketches laid out, perhaps I can find ways to ease the pursuit of a community of queer men at McGill for the future, if not regain the time I have spent trying to find it under the present conditions.
Perhaps a gay Gerts night is in order, or a dance in the SSMU Ballroom, or a club night marketed to queer men. Of course, I would need to get the word far enough out across McGill to compensate for both the low number of men and the cultural barriers I discussed—not to consider the organizational logistics involved. This is not a one-gay-man task; and besides, midterms are ripping the soul out of me at the moment. Perhaps I will get around to this eventually, or maybe some other brave soul will step up and break the present inertia. Until then, if you are a queer man who does not have a shoulder to cry on, you can find me at The Tribune.