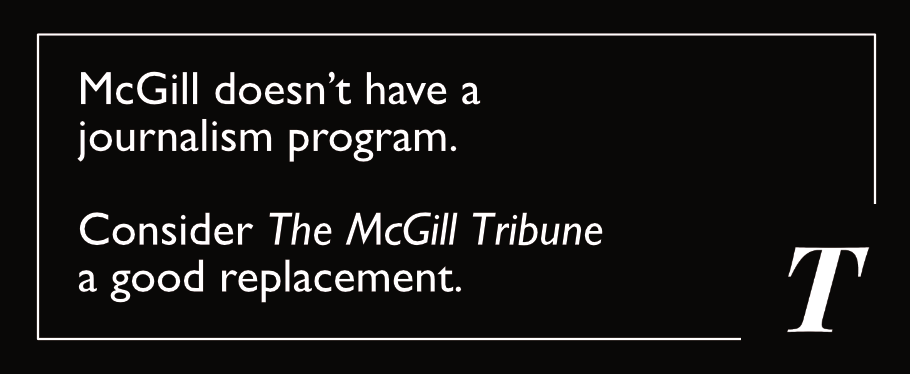 Since 1981, the Tribune has provided students a hands-on journalism learning experience, from the basics of conducting interviews to piecing together a complex investigative piece. A wide variety of content and a reputation for even-keeled reporting make us the perfect choice for learning the trade. Many of our editors have gone on to work for national newspapers and international media companies—all before graduation. If you're just interested in staying in touch with the Tribune, like us on Facebook, follow us on Twitter, and find us on stands across campus every Tuesday.
---
Contributors
If you want to get involved and are new to the Tribune, becoming a contributor is easy! All you have to do is email the section editor or [email protected] expressing which sections you're interested in contributing to, and we will work with you to get you started with the newspaper.
No previous experience or application is required—many of our contributors are first-time reporters. Whatever your interests—whether you're interested in improving your writing skills, learning more about the McGill community, or looking for a place to be involved on campus—you will be welcomed at the Tribune. To get started, come to a section meeting (times below) or email [email protected]. First time writers will usually come to a few meetings and pick up a story whenever they feel comfortable and interested; contributors are also encouraged to bring their own pitches to editors. When you start writing for a section, you'll be paired with a team of dedicated editors who will help you learn and improve as you go. We also provide workshops each semester. We hope to see you around soon!
If you're interested in photojournalism, web development, illustrating, graphic design, sound editing, or video editing, we've got a spot for you, too.
News – Opinion – Student Living – Features – Arts & Entertainment
Science & Technology – Sports – Illustration – Photo – Web – Multimedia
---
Join us!
Want to join a section, write for us, or just hang around with our editors and staff? Come to the weekly section meetings to learn more about how to get involved! Please email the section you are interested in joining to confirm the meeting's location. If you can't make the meeting time, email [email protected] or the section directly to make alternative arrangements—stories can also be coordinated via email.
Monday
Arts & Entertainment – 6:00
Student Life – 6:00
News – 5:30
Opinion – 6:00
---
Tuesday
Sci-Tech – 5:30
Sports – 6:00
---
Wednesday
Design – 6:00
Photography – 6:30
Multimedia – 6:30
---