Content warning: Sexual violence
On May 26, TSN's Rick Westhead broke the news that a sexual assault lawsuit against Hockey Canada, the Canadian Hockey League (CHL), and eight unnamed CHL players had been settled. Filed on April 20, the lawsuit alleges that a young woman was sexually assaulted in a hotel room in June 2018 by those eight CHL players, including members of the 2018 Men's National Junior Hockey Team.
To close out an evening of celebration at the star-studded 2018 Hockey Canada Foundation Golf and Gala event in London, Ontario, many of the players in attendance stepped out for a night on the town. Praise rang through the ears of the young Canadian players, fresh off a gold-medal win, and the feeling as though the city was theirs began to settle in.
After meeting one of the players at Jack's—a staple of the university town—the young woman says the player gave her copious amounts of alcohol, isolated her from her friends, and lured her back to the player's hotel room where the two engaged in sexual acts. Without the knowledge or consent of the young woman, the first player then invited seven others.
According to the lawsuit, the eight players sexually assaulted the young woman for hours. When she attempted to leave the room, the group directed, manipulated, and intimidated her into remaining. The number of men in the room, some of whom had brought golf clubs with them, threatened physical harm and further coerced her into staying.
The young woman says that, after the sexual assaults, the players forced her to shower and state on video that she was not fearful, intimidated, or intoxicated prior to the incident. The players' lawyers later shared the recording with The Globe and Mail in an attempt to exonerate them from any wrongdoing.
Like the domino effect outcome of the #MeToo movement where the surfacing of one story prompted the exposure of many others, this 2018 case of sexual assault was not an isolated incident. On July 22, after receiving a report on the incident, Halifax police opened a criminal investigation into a group sexual assault that was said to have occurred in 2003 involving members of Canada's 2003 Men's National Junior Hockey Team. The allegations state that more than a half dozen players from the team were recorded during the tournament raping an unresponsive woman.
For young hockey players everywhere, the news came as a shock. What happens when the people you look up to, those who represent your country, use their collective power to exploit? Caiden Daley, a Western Hockey League (WHL) alumnus and member of the McGill men's hockey team, struggled to digest the events of 2018.
"Hockey being a sport that I've loved for my whole life and hearing that news, opened up my eyes to what can happen," Daley shared with the Tribune. "[Sexual assault] shouldn't be in any culture, it's not acceptable anywhere, and I just hope that players hear that news and take a step back and think to themselves about what hockey is about."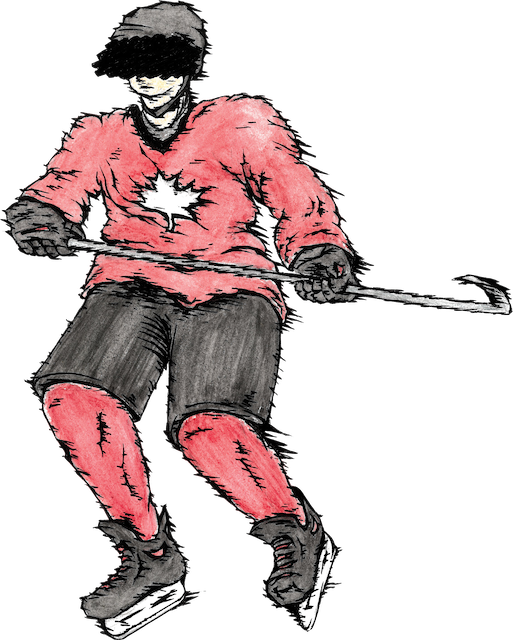 The players knew what they were doing that night was criminal. They knew that a lack of physical evidence and a video stating the assault was consensual would blur the case in a court of law. They also knew that the structures designed to hold them accountable would fail to do so—just as they had failed so many times before.
In 1989, two members of the WHL's Swift Current Broncos were charged with sexual assault—charges that were later dropped when police pressured the young woman involved into admitting that the encounter was consensual. Then, they charged her with public mischief, a charge that often discourages survivors from reporting sexual assault.
And so, while those two players went off free, traded across the country to pursue their professional hockey dreams, the young woman underwent several years of counselling and multiple attempted suicides.
Echoes of the violence inflicted by the Swift Current case have continued to ring ever since. The Saskatoon Blades in 1995. The Windsor Spitfires in 1995. The Barrie Colts in 2000. The Soo Greyhounds in 2012. The Gatineau Olympiques in 2014. The same story on repeat. Just different towns, different teams, and different players. The CHL—Canada's major junior hockey league that represents the Ontario Hockey League (OHL), Western Hockey League (WHL), and Quebec Major Junior Hockey League (QMJHL)—has produced generations of local hockey "heroes" whose destructive actions face no repercussions.
As journalist Laura Robinson lays out in her 1998 book Crossing the Line: Violence and Sexual Assault in Canada's National Sport, patterns of sexual abuse often stem from players' confrontations with a litany of hypersexualized hazing rituals and sexually abusive coaches. "They are also very angry and frustrated with the powerlessness they feel, especially when they have been abused by men they looked up to and trusted," Robinson writes. "One of the ways they believe they will get rid of these bad feelings is to transfer them to someone else." In 1994, for instance, 135 sex crime charges were laid against the senior players, owners, coaches, and trainers of the Ontarian team, Tilbury Hawks. The case uncovered initiation "games" that centered on the boys' rectums, penises, or mouths—rituals that are not uncharacteristic of other junior hockey teams throughout Canada. 
University hockey teams cannot be sidelined in discussions of the sport's pervasive culture of sexual violence. Misogynistic environments and assault allegations are commonplace within university sports teams, such as Boston University, the University of Michigan, and Carleton University, to name a few. In 2014, the University of Ottawa men's hockey team was suspended in response to allegations of group sexual assault in Thunder Bay.
When asked if the recent Hockey Canada scandal had prompted any changes to education and training programs received by the McGill men's hockey team, executive director of McGill Athletics Geoffrey Phillips told the Tribune by email, "[t]he safety and well-being of our student-athletes is always the number one priority of McGill Athletics. The messaging and support offerings to student-athletes is ever-evolving based on current social issues and how best to address them."
Currently, in addition to completing It Takes All of Us, the mandatory online sexual violence education program for the entire McGill community, student-athletes are also mandated to complete an annual anti-hazing education course. According to Phillips, coaches hold "team building exercises throughout the year to harness a strong, inclusive environment."
The Tribune reached out to McGill's men's hockey coach David Urquhart regarding the issue of toxic masculinity in hockey culture, but he respectfully declined the interview request.
Although the responses from McGill hockey representatives indicate that there are some structures in place to educate players, the normalization of sexual violence and the silencing of survivors is deeply entrenched in hockey's too-often permissive culture. These values cannot be erased by the "It Takes All of Us" program, inclusive "team building," and an anti-hazing education course. These surface-level initiatives are sorely inadequate, failing to acknowledge the depths of the problem endemic to male hockey culture—a problem decades in the making.
Recent parliamentary hearings targeting Hockey Canada's cover-up of the 2018 case have expanded to investigate deeper-seated issues within the organization. Notably, the hearings revealed the existence of a multi-million dollar fund that is supported by registration fees from youth players across the country and used to pay out settlements in cases of alleged sexual assault. Hockey Canada has deployed the fund to write checks at their own discretion, allowing the organization to avoid the participation of their insurers on issues that are deemed uninsurable, such as sexual assault. Until recently, parents and players have been unaware of the fact that their registration fees are being used to cover up cases of alleged sexual assault; the fund had remained a well-kept secret for decades and is not listed in the organization's handbook.
An investigation by The Globe and Mail revealed that the reserve fund exceeded $15 million in recent years. Hockey Canada CEO Scott Smith and chief financial advisor Brian Cairo both defended the existence of the fund because of the uninsurable nature of the settlements. Senior executives testified that Hockey Canada handles many sexual assault cases every year and has paid $8.9 million to settle multiple cases of alleged assault since 1989.
While the 2018 sexual assault case was not the first assault involving National Junior Hockey Team members, it was the first time that Hockey Canada was unable to conceal their players' egregious actions from those outside the tightly-bound organization. It was the first case to reveal that this fund had been dedicated to settling sexual assault claims behind closed doors. It was the first to prompt the Canadian government to put an unprecedented freeze on the $7.8 million of federal funding allocated to Hockey Canada each year.
Courtney Szto, an assistant professor at Queen's University whose work specializes in sports, physical cultures, and intersectional justice, ties these mass cover-ups to the lack of impartial third parties within sports establishments with which athletes can openly communicate their experiences.
"The lack of accountability [….] is similar when any sports organization likes to deal with issues in-house and participants are not provided with any external oversight," Szto wrote.
"If you have an issue with a coach, who do you go to? Who can you trust? Historically, those people you would raise an issue with are also the people who determine your playing time, your salaries, and/or any other potential opportunities you might receive; hence, people learn to stay quiet because they don't know who to trust."
This culture of silence is not exclusive to Hockey Canada. As a country, Canada muzzles its history and past injustices—its settler colonialism, its enslavement, its misogyny—the consequences of which run through the very fabric of the nation. Despite learning about the 2018 sexual assault allegations against the CHL players that very year, the federal government did not follow up on the complaint until the news became public, failing to hold the players or organization accountable, like so many others.
The thunderous silence from current and former NHL players and coaches is disheartening as well. There was no whistleblower in 2018. Nor in 2003. The code of silence implicates all players, as it enables the dangers of hockey culture to remain unchallenged behind closed doors.
"Even if you don't think you're affected, you are," Daley said. "We'd all like to change— it doesn't just take one person, it's a whole community. Things need to be changed and need to be taken care of and put into the right direction. And hopefully, hockey culture can keep moving forward[s] instead of backwards."
In response to the pressures inside and out of the hockey world, Hockey Canada continues to show that they truly do not care to change. The only action taken has been the resignation of Michael Brind'Amour, former president of Hockey Quebec and the organization's board chair. CEO Scott Smith has also continually refused to step down—a decision Szto believes obstructs any tangible change from occurring within the organization.
"Personally, I think you need to clean house at Hockey Canada for the sake of rebuilding trust," Szto said. "I know not everyone was complicit or involved in the recent incidents that have received news attention, but, without a clean slate, there will always be questions about who knew what and when. I don't think in this instance you can make meaningful changes with so many of the same pieces still in play."
Despite calls from the majority of Canadians for his resignation, the Hockey Canada board has made clear that they will continue to support Smith's reign. He was even asked to hand out medals and trophies at several tournaments this past August. This passivity on behalf of the organization illuminates their unwillingness to reform leadership and take accountability for their utter failure to protect any person or player from the dark current of hockey culture. 
The NHL's investigation into the 2018 sexual assault case is still ongoing. As the names of the assaulters have been speculated upon but not made public, there is hope that they will be met with harsh discipline.
But any hope that the hockey establishment will work to implement true change is tempered by the broken promises, closed-door cover-ups, and hockey's code of silence. It's a hope stifled by hockey's continual lack of reform—a hope no one has the heart to truly believe in.