Statement of Retraction
The original version of the article below quoted Students for Palestinian Human Rights McGill (SPHR) about Charles Bronfman's latest donation. The quote stating that the "McGill administration [are] puppets to their Zionist donors" played into anti-Semitic stereotypes about Jewish people being "puppet masters" of institutional decisions—a trope that is both harmful and untrue. The Tribune apologizes for allowing this language to be published and deeply regrets any harm this caused to Jewish readers in the McGill community and beyond.
_______________________________________________________________________________________
On Oct. 27, the McGill Institute for the Study of Canada (MISC) announced that alumnus Charles Bronfman, LLD '90, is donating $5 million to the institute during a special segment at the 2022 MISC Annual Conference. The donation will help launch an endowment fund for a conference series titled Conversations, sponsored by Charles Bronfman that will gather prominent Canadian and international experts for discussions on social, political, and economic issues the country is facing.
Bronfman's donation represents a full-circle moment for the MISC; it was his initial gift that established the institute in 1994. Daniel Béland, MISC Director and professor of political science at McGill, is excited about the "game-changing" endowment, given both its size and the "high-profile" nature of the series it will fund.
"It is […] a gift that, for us, will […] increase really dramatically our resources as an institute […] to help […] foster these conversations outside of the Ivory Tower," Béland said in an interview with The McGill Tribune. "I think it will […] show our commitment to really engage with Canadians about the future of the country but in a global way."
Bronfman is an Honourary Founding Co-Chair on MISC's Board of Trustees, and as a condition of the donation, he can appoint a member to the Advisory Committee for Conversations. Béland stressed that the committee exists for consulting purposes only and that all final decisions at MISC will be at the discretion of the director—currently Béland himself. Stakeholders at McGill and beyond, however, have raised concerns about the potential influence that donors such as Bronfman can exert over academic and political conversations on campus.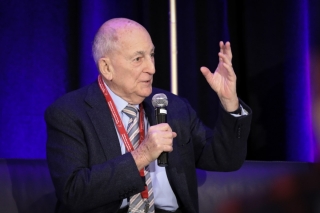 Solidarity for Palestinian Human Rights (SPHR) McGill worries about the implications of Bronfman's donation for student activism and governance, especially surrounding Palestinian liberation. SPHR condemned the university's relationship with the Bronfman family due to their alleged support for the Israeli occupation of Palestine and the Zionist agenda. Bronfman co-founded Birthright Israel, was chairman of Israeli investment holding company Koor Industries, and financed Sunday Culture events for the Israel Defense Forces (IDF).
"With this donation, as with the Sylvan Adams donation, McGill has once again proven that when it comes to filling up its pockets, it will ignore its students' pleas," SPHR wrote in a statement to the Tribune. "Accepting such large donations from so-called Zionist 'philanthropists' ensures that no pro-Palestine policy will ever be adopted at McGill University. It stifles student activism and governance, as we've already seen with the failure to adopt the democratically-elected Palestine Solidarity Policy."
David Robinson, executive director at the Canadian Association of University Teachers (CAUT), said that administrations have a responsibility to prevent donor interference in the internal matters of a university, student groups, and student governance. He believes that democratic discussions with students and faculty about donation contracts are crucial for limiting third-party influence over university affairs.
"Have transparency, [show] the contract, […] debate whether or not it is acceptable that Charles Bronfman will have one person appointed to this committee," Robinson said in an interview with the Tribune. "It should be the academic governance body that makes those decisions in order to protect and preserve academic integrity."
Derek Cassoff, managing director of communications at McGill's University Advancement (UA) office, insists, however, that the donation and its terms do not infringe on the university's or MISC's autonomy.
"We are very careful at McGill […] to maintain […] academic freedom," Cassoff told the Tribune. "We certainly do not want to be in a situation where outside parties, whether they be donors or other […] people of influence, would be in a position to be able to dictate the academic direction of the university or any of its programs. That is something that we are very clear on."
Nonetheless, Robinson remains concerned about a tendency at universities to appease donors, especially those who make significant contributions and maintain long-standing relationships.
"A more subtle, almost unconscious bias that is built-in is that people don't want to offend the donor, which would cause problems," Robinson said. "It is sort of like the old joke […] that whoever has the gold makes the rules. So the donors do have some kind of influence, even if it is not a direct influence."