The Students' Society of McGill University (SSMU) convened for its Winter General Assembly (GA) on March 26. Fewer than 350 students—the minimum requirement to meet quorum—attended the GA, forcing the assembly to become a consultative forum. All motions passed by a consultative forum can be added to the agenda of the following SSMU Legislative Council meeting. Attendees the Motion to Organize the Fight for Free Education and Cancellation of Student Debt, the only motion submitted to the agenda.
SSMU President Muna Tojiboeva attributed low attendance at the GA to the nature of the sole motion presented.
"The GA has been advertised on Facebook and publicized widely," Tojiboeva said. "I think [lack of attendance has] more to do with the non-controversial nature of the motions, which usually attracts people to the GA."
The motion was drafted by Socialist Fightback's McGill chapter and mandates that SSMU support initiatives for free education and student debt cancellation. It calls upon the SSMU Vice-President (VP) External to collaborate with student activists across Canada to mobilize a one-day strike in Fall 2018. Additionally, the motion requested that SSMU establish monthly democratic assemblies to engage students in SSMU's advocacy campaigns.
This motion is preceded by SSMU's current policy to promote free education, which passed in 2015. Socialist Fightback member Natalia Garcia believes that organizing a strike is the next step in the fight for free education.
"The best way to fight for our rights is mass action," Garcia said. "It took the 2012 mass strike for the government to cancel the tuition hikes. That's what the government responds to, not letters, not votes. They respond to pressure. We don't believe that [the government] will do anything by themselves if it's not coming from [students]."
During the debate period, SSMU VP External Connor Spencer expressed her support for the motion, predicting that free tuition is potentially on the horizon for Canadian universities.
"The NDP just passed, at their congress a month ago, a motion to endorse free tuition," Spencer said. "This is something that's on the agenda for the upcoming provincial election, because students have mobilized. This motion is incredibly timely, and I want to lend my full support."
Socialist Fightback member Vishwaa Ramakrishnan explained that this motion is only one step in the right direction toward free education.
"The motion is Canadian-centric but it is designed to expand beyond the confines of [Canada]," Ramakrishnan said. "This is a global issue. It's time we start uniting as students across the country, across the world, for free education. I think only through solidarity, with this resolution as a first step in that greater and broader plan for free education, that we can achieve that."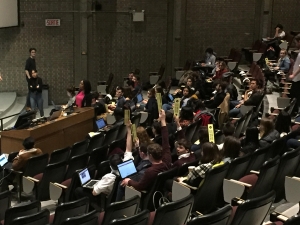 Not all students were in favour of the motion, however. Andrew Figueiredo, U2 Arts, stated during the debate period that he thinks free tuition is too ambitious a goal for a student strike.
"It's fine and dandy to talk about free tuition, but it's a bit of a pipe dream at this point," Figueiredo said. "It would be nice to implement in the long run, but this motion is not the way to get there. A one-day student strike would not only be disruptive to campus life, it would frankly not work."
Figueiredo further criticized the motion for a lack of fiscal policy details and expressed concern about the long-term repercussions of implementing free tuition.
"We could essentially tank the Canadian economy with this kind of idea, if it goes far enough," Figueiredo said. "So let's take a step back and think about these things, not go on strike, have pertinent discussions on campus, take some economics classes, and consult some experts before going about this."
A majority of the consultative forum voted in favour of the motion. It was then discussed at SSMU Legislative Council on March 29, where an amended version passed calling for SSMU to work toward the implementation of monthly democratic assemblies in Fall 2018.