Montrealers took to the streets on March 8 to celebrate International Women's Day and protest in solidarity with women's movements across the world. The demonstration began at Roddick Gates, after which a group of marchers traversed the downtown streets, stopping in front of Quebec Premier François Legault's office and the United States Consulate General.
For the 22nd year running, the march was organized by Femmes de Diverses Origines (FDO), a grassroots network dedicated to uniting various women's movements across Quebec. Prior to FDO's march, the McGill Iranian Student Association (MISA) held a demonstration in solidarity with the uprisings against the Iranian government. The protests in Iran and worldwide were sparked by the murder of Jina (Mahsa) Amini in September 2022 at the hands of the country's morality police for violating hijab laws.
Wearing a white dress and a flower crown, Mandana Zandi circled the audience, turning a mirror towards demonstrators and fellow performer Reza Azarpour. In a post-performance interview with The McGill Tribune, Zandi explained that they hope their performance art symbolizes women, non-binary, and queer people's struggles.   
"We wanted to express the plight of being a woman, and have a deity, a women's protector, who is placed in a realm where earthers aren't able to comprehend her," Zandi explained. "The goddess is trying to help the human embrace her plights, from childbirth's pain, menstrual cycle and societal oppression […] to transcend them. [….] All of us have an inner God that connects us to the universe, and if we listen to our inner self, no power can abuse us."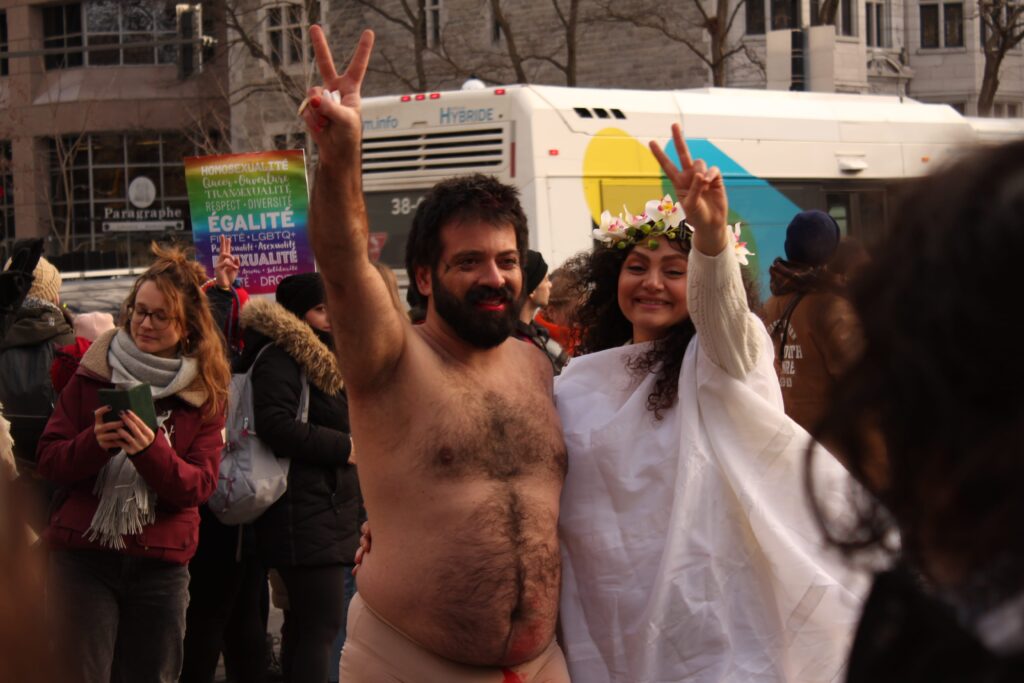 MISA's vice-president Finance, Andia Moshari, then concluded the association's protest with a speech listing the demands of the Iranian Scholars for Liberty collective, a network focused on uniting diaspora Iranian academics in solidarity with the Women, Life, Freedom (Jin, Jiyan, Azadî) movement.
"We, the Iranian Scholars for Liberty and collaborators, stand by women and nonbinary people in Iran and Afghanistan," Moshari said. "Let us acknowledge [their] bravery by amplifying their righteous demands […] to immediately repeal all forms of discriminating laws and act against […] women and nonbinary people, including execution of all nonbinary and women's rights activists."
The FDO then began their event with a speech by Cherie Jacobs from Quebec Native Women, followed by a surprise performance from the Raging Grannies that protestors welcomed with laughter and cheers.
More featured speakers took to the microphone, such as Virginie Mikaelian from Fédération des femmes du Québec and Chantal Ismé, Monique Dauphin's daughter—Dauphin was a Haitian activist for migrant workers who recently died in a fire at her Montreal residence. Noa*, a member of the Palestinian Feminist Collective, then took the stage to speak on the intersectionality of women's movements with the fight against colonialism, capitalism, and racism.
"Coming here as a Palestinian woman is important: Without the liberation of Palestinian women from all these systems of oppression, there can be no liberation of Palestine, period," Noa told the Tribune in an interview. "People don't associate feminism with anti-colonialism, anti-capitalism, anti-imperialism, but the reality is that they are intimately linked."
As demonstrators marched towards Premier Legault's office, a colourful array of national flags, banners, and pink smoke bombs dotted the procession. Chants such as  "women, united, will never be defeated" echoed in the streets, while political music like Shervin Hajipour's Baraye filled the silence in between. (Hajipour won the 2023 Song For Social Change Grammy, and the song has been an anthem of Iranian protests.) 
When they arrived at Legault's office, speakers protested Bill 21, which bans public sector workers from wearing religious symbols. Demonstrators also condemned the Quebec government's treatment of asylum seekers and migrant workers at Roxham Road.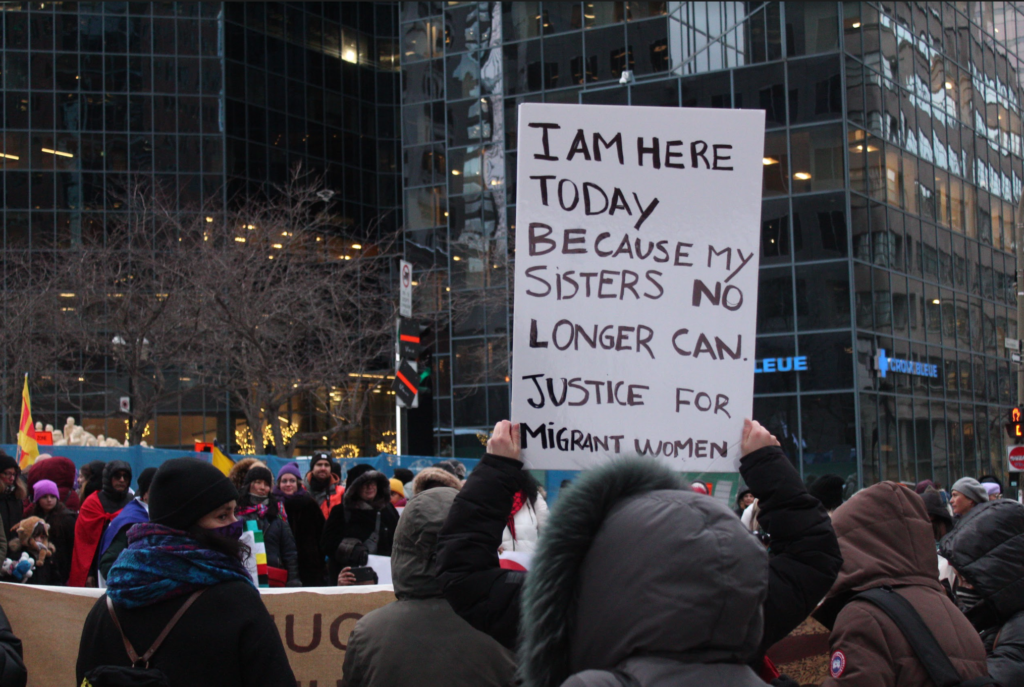 Marie Boti, FDO's spokesperson and a founding member, reflected on the legacy of International Women's Day, which began as Working Women's Day, with the Tribune.      
"Amazing speakers are here with us today to talk about Indigenous resistances, anti-racism, anti-islamophobia, anti-poverty, local and international feminist solidarity," Boti said. "We want to keep up the militant tradition of International Women's Day [….] We want to shake things up and make a change."
*Noa's name has been changed to preserve their anonymity.