Content Warning: Mentions of war, violence, genocide, and antisemitism
Montreal students and community members gathered once again on Nov. 9 to demand a ceasefire and protest Canada and McGill's complicity in the war in Gaza, as well as Scotiabank's investment in a private weapons manufacturer in Israel.
In the month after the Oct. 7 Hamas attack on Israel that killed 1,200 people and took another 242 people hostage according to Associated Press, Israel has dropped 25,000 tonnes of explosives on Gaza, cut off the enclave's water, electricity, and telecommunications, targeted medical infrastructure, and bombed refugee camps. According to Reuters, Israel's retaliation has killed over 11,000 civilians, more than 4,000 of whom were children, as of Nov. 13. Canada and the United States have refused to call for a ceasefire, citing Israel's right to self-defence.
The rally, organized by Solidarity for Palestinian Human Rights (SPHR) McGill, began around 1 p.m. at the McCall MacBain Arts Building. SPHR McGill member Kareem Abuali presented an opening statement that honoured the Kanien'kehá:ka, the Indigenous inhabitants of the land on which McGill and Montreal are situated. Abuali then drew parallels between Canada's occupation of unceded Indigenous lands on Turtle Island and the Israeli occupation of Palestine.
"We recognize that decolonization is not simply a metaphor for social justice and societal improvement but that it involves a material repatriation and getting back of Indigenous land and life both in Canada and in Palestine," Abuali said, concluding his remarks with "Land Back" chants.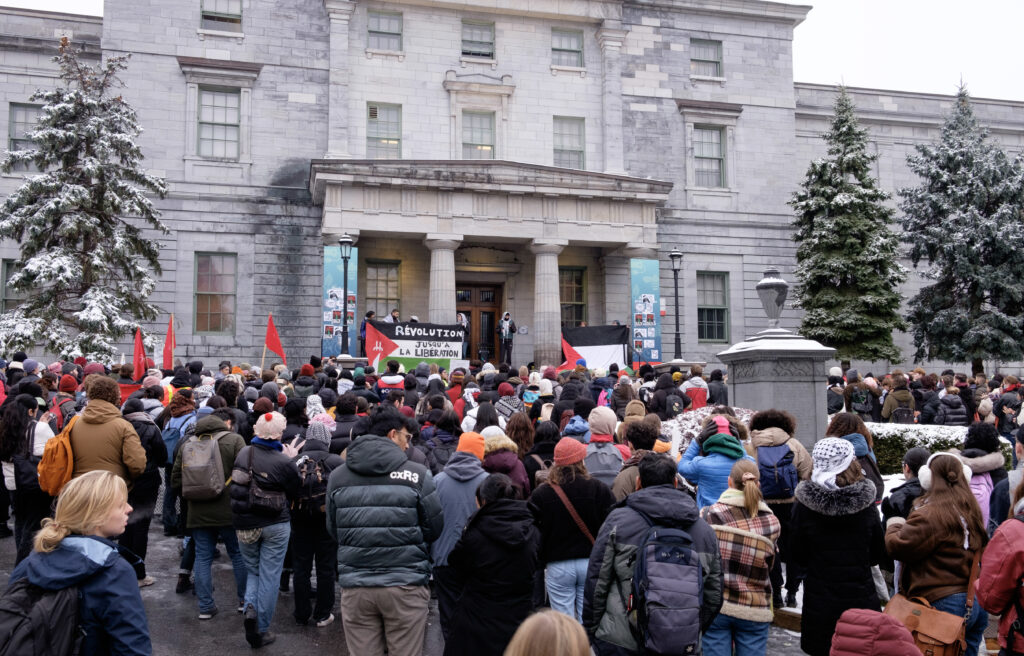 A representative from SDHPP UdeM—Solidarité pour les droits humains des Palestiniennes et Palestiniens de l'Université de Montréal—took the stage next, followed by two members of the recently revitalized McGill chapter of Independent Jewish Voices (IJV).
"Palestinian liberation has never been and never will be oppositional to Jewish safety," Isaiah said on behalf of IJV McGill. "As Jewish people organizing for Palestine, we firmly say that 'never again' means for all people, all times, all over the world."
IJV McGill was last active in September 2021, based on its Facebook activity. Isaiah says that the group resumed activity this November to offer an alternative community for Jewish students who do not align themselves with the state of Israel.
"We realized that there are […] a lot of Jewish students who don't feel represented by the mainstream Jewish organizations on campus," Isaiah told The Tribune. "We exist in numbers and IJV is restarting so we can mobilize that."
Méshama Eyob-Austin, U3 Arts, who is Ethiopian-Jewish and Jamaican, also spoke at the protest. She stressed the connection between Black and Palestinian liberation movements.
"The United States, Canada, and other world powers have consistently made themselves complicit in Palestinian oppression [….] In return, Israel has helped these countries oppress their own communities, including Black communities," Eyob-Austin said. "In 2014, when we protested for Michael Brown, it was Palestinians […] who [offered] advice on how to navigate the tear gas […] because it is the same tear gas that is used against them [….] And until one is free, we are not all free."
Since 2002, organizations like the Jewish Institute for National Security of America have provided counter-terrorism training to American law enforcement officers in Israel. Jewish Voices for Peace's Deadly Exchange campaign has been opposing these programs since 2018 for perpetuating militarization and systemic racism in policing. The Anti-Defamation League, which also runs trainings for law enforcement, has denounced the backlash as antisemitic for blaming Israel as a scapegoat for centuries of anti-Blackness in the U.S.
After a speech by a representative from SPHR Concordia, Abuali returned to the stage to share some personal thoughts.
"One might wonder what it's like to be a child in Gaza and grow up in a world that is so merciless and so evil [….] How these children grow up to be strong and resilient and blamed for the oppression they experience, and then they get killed," Abuali said. "And here, you think how much of a disgrace you are for ever trying to appease the apathetic and unfeeling. For engaging in dialogue about terrorism, about religion, about UN resolutions and foreign policy [….] It becomes disgusting."
When echoes of "Free Palestine" calmed, another speaker from SPHR McGill began listing the names of the massacres that the Israeli state has committed in its 75 years of existence. The speaker then initiated various chants like "So-So-So-Solidarité, avec, avec, avec la Palestine."
Around 2 p.m., protestors marched to the Scotiabank branch opposite McGill's Bronfman Building on Sherbrooke Street, where a group of protestors had formed a picket line. Scotiabank is the largest foreign shareholder in Elbit Systems, Israel's largest private weapons manufacturer, holding five per cent of the company's shares (valued at around 450 million USD).
Two hours before the protest began, Principal and Vice-Chancellor Deep Saini sent an email to the McGill community that denounced one of the event's posters, calling it antisemitic, as it featured an image of protestors breaking glass. The event took place on Nov. 9, the anniversary of Kristallnacht—a series of pogroms that Nazi Germany carried out against Jewish businesses, named after the broken glass that littered the streets following the attacks. Saini wrote that he had requested extra security presence on campus and warned that the protest would only be tolerated if it remained peaceful. The image that Saini referenced is from 2002 protests at Concordia University that cancelled a speech by Israeli Prime Minister Benjamin Netanyahu.
IJV McGill took to social media to respond to Saini's email, which the group characterized as "inflammatory" and "repressive." In its statement, IJV McGill opposed the increased security presence and rejected the Principal's insinuation that the pro-Palestine movement on campus has violent intentions.
"It's legitimate to connect the anniversary of Kristallnacht to a photo of broken glass [….] I think it's a bad faith interpretation to see that as an intentional act of antisemitism. Had it been any other day, it would have been an appropriate image to use," Isaiah told The Tribune in an interview. "I definitely think that the way incidents of antisemitism have been manipulated to support Israel leaves Jews all over the world less safe [….] It threatens Jewish safety in the name of the Zionist cause."
SPHR McGill has not responded to Saini's email publicly, but the group reposted IJV McGill's statement on their Instagram story on Nov. 9. In a statement to The Tribune, SPHR McGill denounced any entanglement of their activism with antisemitism.
"We reiterate that conflating Zionism and Judaism has long been used to promote and amplify Zionist narratives at the expense of both the Palestinian and Jewish community," SPHR McGill wrote. "Once again, we reject this false association that attempts to undermine the history of Palestinian student activism in North America by weaponizing traumatic historical events and generational grief."
On the walk to Scotiabank, The Tribune spoke with political science professor William Roberts, who was one of a few faculty members in attendance. Roberts said that he was disappointed in the McGill administration for being "incredibly naive or ignorant."
"That level of cluelessness and one-sidedness from the administration is very predictable, unfortunately, and I really wish that they would […] get out of their offices and stop thinking that they understand the world just because they got angry emails," Roberts said.
At Scotiabank, picket line organizer Eli Tareq El Bechelany-Lynch and a Palestinian Youth Movement representative gave speeches. Another organizer led a group singing of "Hey Hey Ya Falastin," a song by Rola Azar that was dedicated to Shireen Abu Akleh, a journalist who was shot by Israeli forces in 2021.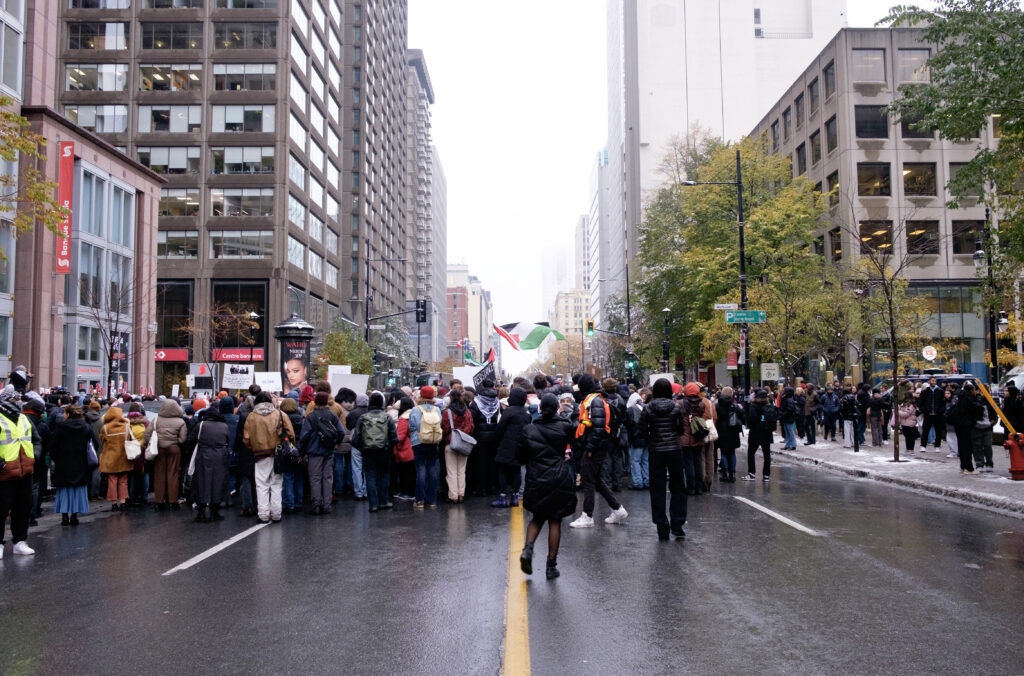 Around 3:20 p.m., community members from Université du Québec à Montréal (UQÀM) marched toward Scotiabank, walking behind a large banner that read "Palestine Libre." Chants such as "Boycottez Israël, boycottez les criminels" resonated through the streets as the group joined the other demonstrators. The Tribune spoke with two students from the group, both of whom asked to remain anonymous.
"We are here to take a stand against Canada and our institutions' involvement and encouragement of the genocide that is going on in Palestine right now," the two said in a joint statement. "UQÀM has a lot of programs in exchange with Israel and we're asking UQÀM to join the BDS [Boycott, Divestment, Sanctions] campaign and stop buying products from companies that finance genocide."
In an interview with The Tribune, El Bechelany-Lynch reiterated the importance of the BDS movement in the fight for decolonizing Palestine and rejected accusations that the campaign is antisemitic.
"People have been protesting peacefully for a long time now, it's been a month. I think what has changed recently is there's a shift in focus to think about where the money and weapons are coming from that are killing Palestinian civilians," El Bechelany-Lynch said. "If you're boycotting Israel, which is a government like any other government, you're boycotting the actions of a government that is going against international humanitarian laws, that is killing innocent people. We're not boycotting Jewish people or Jewish businesses [….] It's a movement for the liberation of Palestinian people."
The protest remained peaceful and continued until sundown at around 4:30 p.m.
*Ghazal Azizi has no affiliations with the event's stakeholders. She has, however, signed a petition and appeared at demonstrations calling for a ceasefire. The Tribune does not consider her engagement to be a conflict of interest.