When McGill students hear about psychedelics, their minds might wander to that friend who tried magic mushrooms once, or maybe MK Ultra's acid-based electrotherapy experiments. What might not immediately register is the novel and promising potential for these drugs today in the form of psychedelic therapy.
The perception of psychedelics as medicinally viable and socially acceptable diverges from their historic prohibition and stigmatization. However, changing norms raises a variety of questions concerning psychedelics' potential benefits and harms as well as the role they might play mental health treatment. The public face of this movement in Canada, the Multidisciplinary Association for Psychedelic Studies (MAPS Canada), is working toward the legalization of psychedelics by facilitating research on psychedelic therapy, educating the public, and sparking a healthy dialogue regarding psychedelic drugs.
Magic mushrooms, acid, and molly—or, as they are medicinally known,  psilocybin, LSD, and MDMA—have all emerged as substances of interest in the field of psychotherapy over the past ten years. LSD and psilocybin have been shown to be helpful in treating disorders like alcoholism and depression, particularly in patients whose conditions are the result of life-threatening illnesses. MAPS has carried out two successful clinical studies showing how MDMA could aid individuals suffering from Post-Traumatic Stress Disorder (PTSD), and further  trials are on the horizon to expand on the safety and efficacy of the treatment.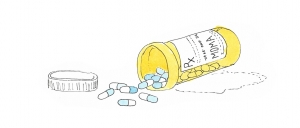 Cognitive behavioural therapy is a form of psychotherapy which enables patients to revisit traumatic memories in a safe environment with the goal of permanently altering the thinking and behavioural patterns surrounding the memory in question. While conventional therapy follows a similar procedure, it can be an extremely difficult process for a subject with PTSD, as revisiting the memory can induce anxiety, agony, and other extreme emotions reminiscent of the inception of the trauma. MDMA can help facilitate the process by easing recollection of traumatic memories.
"Normal therapies, when they start to access that tape loop, have a huge fear response that people don't want to go through," Mark Haden, executive director of MAPS Canada and adjunct professor at the University of British Columbia School of Population and Public Health, said. "MDMA assisted psychotherapy allows access to the loop in a way that doesn't stimulate fear."
In treating an aggressive disorder like PTSD, the therapist-patient relationship is particularly important. Reliving traumatic events in their emotional totality requires vulnerability from a patient and sensitivity from a therapist. According to Haden, MDMA is invaluable in building a strong relationship of this type.
"[MDMA] also bonds the therapist to the subject," Haden said. "It's a connector, and that connection is a huge benefit in terms of therapy."
Haden also stressed the medicinal potential of LSD. Informed by some inaugural research done on psychedelics in Canada in the 1950s and '60s, he speculated that LSD might be useful in treating alcoholism.
"If you think about what alcoholism is, there's a certain rigidity of ego," Haden said. "If someone is killing themselves with this behaviour that they somehow justify and make okay, that's rigid thinking. So, LSD is useful for insight [and] reflection on self, and it kind of shakes the ego up."
LSD simulates a spiritual experience, a phenomenon which Bill Wilson, one of the co-founders of Alcoholics Anonymous (AA), asserted is helpful in combatting alcoholism. Wilson was an advocate for the use of LSD to treat alcoholism because he perceived it as aiding in one's spiritual development and abstention from alcohol.
"He was a proponent of the benefits of LSD because it produces one of the things which is an underpinning of AA, that is, a spiritual experience," Haden said.
Haden is confident about the future of psychedelics and psychotherapy. He believes that the scientific community is engaging with the idea in a new way.
"There are a wide range of people, from psychologists to psychiatrists, who are taking a look at the evidence that's being produced and saying this will change our profession," Haden said. "People have these sorts of disorders over long periods of time, and they're very difficult to treat [….] What we're observing with psychedelics is that they're actually much easier to treat and that [they are] treatable within a relatively short period of time."
While the potential of psychedelics is difficult to ignore, there is reason to be cautious. The current available research is not extensive enough to constitute scientific certainty, and funding for such studies is still sparse. That being said, it is crucial that the societal perception of these substances keeps pace with a quickly evolving scientific understanding. Jonathan Jarry, a science communicator at McGill's Office for Science and Society hosts the video series "Cracked Science," to which he most recently added an episode on the 'psychedelic renaissance.' He believes that, although the foundational evidence is promising, our current regard for psychedelic therapy should be limited to cautious optimism.
"There is preliminary evidence in phase two clinical trials that certain psychedelics, within a therapeutic context, could potentially help certain patients with certain kinds of psychological disorders," Jarry said. "I'm very much in favour of MAPS funding these studies because these substances do have a potential to help people, but we just don't know at the moment if they do help people better than current standards of care."

Some of Jarry's apprehension is prompted by the media's depictions of psychedelic therapy as a definite, blossoming success. For example, Rolling Stone ran an ambitious story in March 2017 titled "The Psychedelic Miracle," which equated the proliferation of psychedelic research and anecdotal evidence with scientific success. Such exaggerations incite another concern in Jarry: The possibility that individuals may decide to self-medicate due to a lack of options.
"Depending on your access to healthcare, depending on your willingness to go through the healthcare system, depending on your experiences with psychiatrists and psychologists, I could imagine people rushing to these substances outside of healthcare institutions to find help, which could be quite damaging," Jarry said.
Jarry is not trying to dismiss or delegitimize the few positive scientific studies so far. He simply wants to reiterate that they are exactly that: Few and far between. For its part, MAPS has worked to rectify this shortage. According to Rick Doblin, the organization's founder and director, MAPS has treated 107 PTSD patients in six phase two studies. As Jarry explains, though, the public denouncement of psychedelics still makes it difficult to acquire funding
Psychedelic drugs have the potential to aid struggling individuals with severe psychological disorders, and the idea that these drugs might help ease and expedite their treatment is reason to be excited, but scientific certainty is a waiting game. The substantive evidence for the efficacy of psychedelic therapy is not robust enough to assert that these drugs will assume a role in the future of mental-health care. Yet, the potential of psychedelic therapy presents an invigorating notion: These drugs might no longer exclusively provide a vivid, psychoactive experience to the recreational user, but may also come to aid and enrich the lives of people who truly need them.