For 61-year-old Colette Desilets, becoming a capoeira mestre, meaning master, was never the plan. Yet today, she finds herself at the forefront of the Montreal scene. Capoeira is a type of martial art that originated in Brazil under Portuguese colonization. Originally developed by African slaves as a form of resistance, it combines martial arts techniques with music and dance. When the slave owners saw that their slaves were training to fight, the practice was prohibited, alongside a general attempt to ban cultural practices with African roots, such as the samba.
While capoeira was not recognized as an official sport by the Brazilian government until 1972, its long history under colonialism was central to the forms it eventually grew into. Desilets explains that in order to keep practicing capoeira, African slaves incorporated songs and instruments into the practice to disguise it as a dance. These traditions remain today and are part of what makes it such a fascinating sport.
"When [capoeira] was no [longer] prohibited to practice, those things, the dance and the singing, [remained], because [there is] a lot of ritual in capoeira too," Desilets said. "So all that stayed, and it just makes the game more beautiful I think."
Two aspects that make Desilets unique as a mestre are that she is not from Brazil, and that she is a woman. In fact, to her knowledge, she is the only female master practicing in Canada, and the only Canadian master who is not of Brazilian origin. Although growing communities exist in cities such as Montreal, Vancouver, and Toronto, capoeira is still not a well-known sport in Canada. Desilets is one woman spearheading the charge to increase its presence here.
"Many times, when I talk about what I'm doing to people who are not in my surroundings, they don't know what capoeira is," Desilets said. "[There's] a place for improvement to make capoeira known all over Quebec and Canada."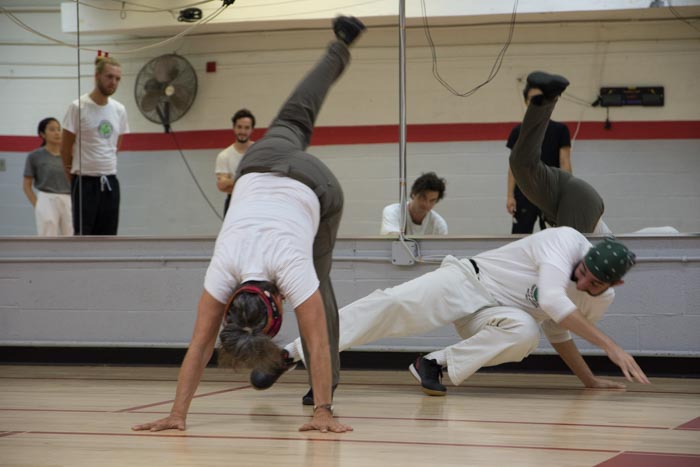 Desilets discovered capoeira by chance in 1990, after years of toiling away in ballet and jazz and feeling frustrated by her inability to master the moves. She quickly committed herself to capoeira, and has now been to Brazil 20 times.
During her second trip, while visiting a master who she had met once before in Boston, she discovered "capoeira Angola." It is one of two broad umbrella styles, along with "capoeira regional," that encompass many lesser-known regional variations. Capoeira Angola is the style she has practiced for 23 years now under the guidance of the same master. In capoeira, it is essential to have a continuous master whose philosophy you respect and admire. They must be knowledgeable, but also understanding and approachable. Given the sport's origins, it is extremely important to incorporate its history—as well as the song, dance, and ritual—into teaching and participation in the roda, the performance of capoeira in a circle with others.
"You know it's a serious school if they try to tell you all about [the history] and if you practice not just the movement, [but] you also practice the singing, and the instrument playing, and things like that," Desilets said. "It's very important, especially if you want to teach. If you want to talk about capoeira you have to know about capoeira, you have to study capoeira [….] It's not just the practice."
Desilets hopes that as capoeira continues to grow in Canada, female participation will increase. Among her students, she finds that many women stop training after having kids, whereas for men the same trend doesn't exist. In her age group, she sees many male capoeiristas but few women. Although change is occurring in other areas, the sport is still a male-dominated one. For example, she describes a Quebec television program targeted towards a female audience that produced a segment on capoeira once. Although Desilets spoke with producers of the show, instead of inviting her in to teach it, they had a male master lead the class full of women, because it looked better to have a young guy without a shirt on than an older woman.
"In Canada, I can say [participation is] fairly even [between genders], even in Brazil now [too]," Desilets said. "But I cannot say that capoeira is not a macho world, you know? The old world is a macho world [and] capoeira […] is too [….] But it's changing. It's more and more women [and] that's very nice to see. But I really think it's harder for a woman. My master doesn't like when I speak like that, but I really think it's harder for women."
However, Desilets still spoke very highly of her master and her respect for him, highlighting the fact that his giving her the title of mestre is in itself extremely progressive and open-minded.
"I'm sure he has been criticized a lot in Brazil about that, giving a master to me and everything, you know, because I'm not young no more and I'm white," Desilets said. "But he did it, so I have to [accept] it."
Ultimately, however, one's gender or race matters much less to Desilets than the community that capoeira provides. It has the power to bring people together and help them maintain good mental and physical health.
"It's really really good for your body and your mind also," Desilets said. "It's active because when you practice, you have to forget about everything if you want to improve yourself, or to do a good game [….] You just give yourself to capoeira for the time you train."
It's also both a local and global community. While her school is located in Montreal, she explains that it is a great way to meet people while travelling, as she finds capoeira communities in places she visits around the world. Capoeira is more than simply a sport—it's a way of life.
"Capoeira is my life," Desilets said. "If I stop doing capoeira I don't want to be on that world no more. [Capoeira is] my family and my friends. It's too much probably. I'm a bit crazy about it. I've given everything for capoeira. I did and I'm continuing doing it too. I love it. I love my students [….] I don't do capoeira for money, but when I see my students doing a nice game and learning, it's the best salary for me. It's so nice to see people playing capoeira. It's beautiful."
Mestre Desilets is teaching a capoeira class during the Fall and Winter semesters at the McGill Sports Complex on Mondays and Wednesdays from 4:30 to 6 p.m. Students can visit the McGill Athletics and Recreation website for more information.
She also runs her own school in Montreal, Grupo de Capoeira Semente do Jogo de Angola Montréal, which organizes a roda every Saturday at 4 p.m.