As Jenning Leung, the six-foot-one starting McGill Redmen point guard, was set to begin his fifth and final year, he reflected on some of the things he's grown to appreciate during his time at McGill.
"I'll miss Montreal a lot," Leung said. "I love the city and my friends here. I'll especially miss the basketball team; those are my brothers. I'll miss the coaching staff. They are a special team of guys and I'll miss them a ton."
Last season, Leung and the Redmen matched the program's best-ever finish: They came fourth at nationals, thwarted by the Dalhousie Tigers in a close loss. Leung was also named RSEQ First Team All-Star after scoring over 14 points per game, the second best mark in the RSEQ. But Leung wasn't always a mainstay on the team. When he first joined the Redmen in 2013, he averaged just six minutes per game.
"In my first year, one of the major issues was that my confidence level wasn't high," Leung said. "I was so shocked about how good everyone else was."
Leung's recruitment story is far from typical. He grew up and learned to love the game in the Philippines, where his brother—a McGill alum—coached him. In his senior year of high school, Leung sent emails to universities all over Canada and flew across the world to try out for teams willing to watch him play. McGill was the first school to offer him a spot.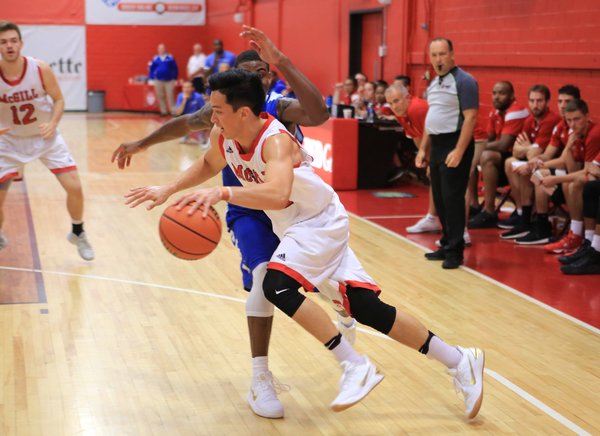 Once Leung started training with the team, it was a whole new ball game.
"When I first came I was not up the same level as the other guys," Leung said. "It was a shock to me. The game was much faster, and mentally I was just like, 'What's happening?'"
Leung, however, remained persistent. Despite his slow start, he worked on his game relentlessly that summer back in the Philippines. During his second year, opportunity sprang in the form of a shallow point guard rotation. By the end of his sophomore season, Leung had started in 13 games, and has been a starter ever since.
But Leung isn't satisfied solely with individual growth. Wanting to win a championship with McGill was one of the main reasons he decided to come back for a fifth season.
"We finished fourth in nationals, but the goal was to win it all," Leung said. "It was just a disappointing end to the season, and I really think that our team is special and I think we can win it this year. That's one of the major reasons I came back. The expectation this year is to win a national championship."
Leung has already accomplished the once-improbable objectives of making the roster of a university basketball team from a country that is rarely scouted, and has worked tirelessly to secure his position in the rotation. A national championship—an elusive standard that the McGill men's basketball team has yet to reach—would be the icing on the cake for this determined athlete.
After he finishes out his final year at McGill, Leung hopes he can continue to play basketball at a high level.
"I'd like to go to Asia and play professionally," Leung said. "A lot of things have to go right for [that] to happen, but that's something I'd like to do."
On Nov. 9, Leung will suit up for his final home opener as a member of the McGill Redmen basketball team.