"I'm going to miss being part of a big family," McGill Martlet Hockey captain and centre Mélodie Daoust said, looking back on her five years with the team.
Daoust hasn't always seen McGill this way. She knew she wanted to pursue higher education at a top Canadian school, but coming from Valleyfield, QC, the transition to living in Montreal was tough.
"When I got to university, I knew it was going to be a challenge because I didn't speak English at the time," Daoust said. "Learning English was a challenge, and [balancing] hockey and school was another."
After five years with the Martlets, including her 2013-14 redshirt season, the four-time RSEQ all-star has become a key cog in the team's machine. Now, as the captain, Daoust has a role to play in maintaining McGill's ice hockey dominance.
"[My role is] to pass on my knowledge of the game and to give [my teammates] confidence," Daoust said. "I want them to know that everyone can get their job done and understand that they're good enough for all of this."
Daoust's leadership skills have shined through this season and she leads the squad with 56 points. However, it's the team's overall success that matters most. After clinching her third RSEQ title in a two-game series win over Concordia, in which Daoust registered five points, the Martlets are now getting set for the CIS national tournament beginning on March 16.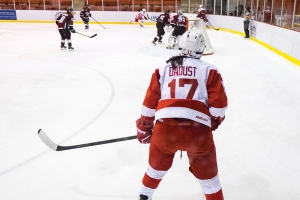 While the time on the ice is certainly important, it's spending time with her teammates that the Martlets centre really enjoys.
"The beauty of being on a team is that all your friends are on the team," Daoust said. "It's because you do everything together […] you end up seeing them more than your own family."
After two years with the Martlets, Daoust took the 2013-14 season off to pursue her dream and play for team Canada at the 2014 Sochi Olympic Games.
"We were 27 players to try-out then they cut us down to 21," Daoust said. "We had about 60 games to play in seven months. All the games were against the [Midget AAA] boys team so it was pretty intense."
In Sochi, Daoust helped lead Canada to an Olympic gold, scoring her first international goal in a 3-1 semi-finals victory over Switzerland.
Following the win, Daoust was forced to take nearly 18 months off after tearing her anterior cruciate ligament and undergoing surgery in June 2015.
"When I got injured, it was a big let-down," Daoust said. "2015 was really hard on my part. At the same time, I was working really hard with my physiotherapist for strength and conditioning and I was able to be back in 2015."
Driven to return to peak form after her injury, Daoust rarely takes a day off. She has continued to work tirelessly, putting in the effort both on and off the ice to help her team.
"We go to school, […] workout from 3 to 4, go on the ice from 4:30 to 6, cook dinner, study, and go to bed," Daoust said. "We have so much passion for the game, it's because we like [it] that we do it."
When she does have a break, Daoust has found herself a new hobby: Colouring.
"I always liked drawing and I am an artsy girl," Daoust said.
She'll have plenty of time to work on her artwork next weekend on the team's long bus ride out to Napanee, ON for the CIS tournament. Regardless the outcome, Daoust has cherished all of her time at McGill and knows whatever the future has in store, she will always remain a Martlet.