Average, competent soccer players fit into pre-existing systems; great, tactically advanced players develop new ones. Tactical development in soccer has always centred elite-level players: Lionel Messi revolutionized the false 9, and Cristiano Ronaldo popularized the position of inside forward. As a fullback with pace and power that can take over a game in a flash, Canada's own Alphonso Davies is leading the next positional revolution. The young star is indicative of a larger movement—North American soccer is on the rise and ready to compete with the rest of the world.
In decades past, North American players have rarely played high levels of soccer. In recent years, however, a plethora of elite talent from Canada and the U.S. has made its way to Europe. Fellow Canadian Johnathan David currently plays for Lille, a French club famous for developing players including Real Madrid's Eden Hazard and Arsenal's Nicolas Pépé. Americans such as Chrisitan Pulisic, Weston McKennie, and Giovanni Reyna have been key contributors for Chelsea, Juventus, and Borussia Dortmund.
The newfound success of North American players did not happen overnight. The organization responsible for the development of this generation of young talent is the MLS Next academy system.
MLS Next is a continuation of the U.S. Soccer Development Academy, which was founded in 2007 but shut down in 2020 due to revenue loss from the COVID-19 pandemic. The creation of the academy system was an attempt to address the gap in development when comparing North American players to those in South America and Europe. Despite the financial barriers of the system, most notably the "pay to play" structure, players produced by the program have proven that North America has more talent than ever expected.
McGill Men's Soccer captain Juliano Cobuzzi, U4 Engineering, was a part of the Development Academy system for nearly six years. He attended the C.F. Montreal Development Academy from its inception until he matriculated at McGill. 
In an interview with The McGill Tribune, Cobuzzi aptly noted that the Montreal Impact Academy, and the Development Academy as a whole, struggled with some early hurdles.
"[It was a] big work in progress," Cobuzzi said. "When we first got in, it was almost as if everyone was trying to find their footing, including the staff and coaches. It was a learning process for everyone." 
Cobuzzi added, however, that the club stepped up to face the challenges head-on.
"Two years in, it changed completely, and it keeps changing," Cobuzzi said. "I've been back to the training facility and it's really gotten a lot better. [When] I started at 14, we were training at some local field, but within two [or] three years, the club had built a training facility where the professional team plays. We went from a local field to a fully independent field with its own gym, pool, [and] medical centre within three years. It was a big financial investment."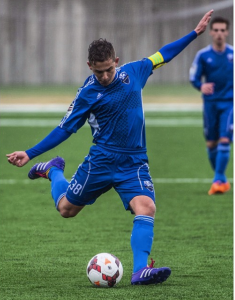 C.F. Montreal's decision to invest in new facilities was indicative of the same youth development the MLS had committed to funding. North America needed to improve its youth development strategy if Canada and the U.S. ever wanted to compete with the rest of the world. 
McGill Varsity forward Vincent Lipka, U1 Arts, grew up in France before moving to New Jersey at the age of 14. Lipka previously played for the famous Le Havre Athletic Club, known for producing talents like Manchester United's Paul Pogba and Manchester City's Riyad Mahrez. In the United States, Lipka had trials with the New York Red Bulls and NYCFC academy affiliates, which led to him sharing the pitch with star midfielder Gio Reyna. He eventually joined Cedar Stars Academy in New Jersey.
According to Lipka, there is a critical difference between North America and Europe's development tracks.
"In France, soccer players have only one objective: To be professional soccer players," Lipka said in an interview with the Tribune. "When I came to the U.S., I felt that some players just play soccer to get into university. It was a way to get into a top school."
In Europe, players develop through professional clubs; high-level universities do not recruit for sports. This ensured that the best European talent remains in the academy system. 
In the U.S. and Canada, however, collegiate sports not only exist at a much higher level, but are also a revenue-heavy endeavour. This encourages top tier universities to allocate significant funds to recruit athletes, leading them to pursue a post-secondary education as well as a sporting career. While die-hard soccer fanatics are uninterested in the education level of soccer players, having an education can be a vital safety net for athletes when pursuing a career as volatile as professional sports. The MLS Next system actively reinforces and emphasizes the importance of education to its players.
Goalkeeper Cristiano Rossi, U2 Economics, was a part of the Toronto FC academy for six years before deciding to study at McGill while continuing his soccer career. In an interview with the Tribune, Rossi mentioned that the training system prioritized both education as well as athletics by teaching its students discipline. 
"You always have to be professional; you represent your club," Rossi said. "The professionalism starting from age 12 and upwards was always stressed on us." 
Rossi also noted how skills he learned with Toronto FC transferred to life outside the academy. 
"You would always have to [manage your time]," Rossi said. "We did four hours of high school before training, forcing us to be really strict with our homework. I would for sure say the hard work and discipline really stuck from a young age." 
It was this mentality that influenced Rossi's eventual decision to continue with his education. According to Rossi, the academy ensured that he was able to balance academics and sport, and he never felt pressured to prioritize one over the other. 
As Lipka noted, a crucial difference in development between France compared to Canada and the United States is the mentality of the players: The "all or nothing" mindset has definitely played a part in France's incredible soccer talent and recent world cup victory. Rossi's experiences, nonetheless, demonstrate that the student-athlete approach has positive effects beyond soccer. 
Developing high-level prospects is the goal of these professional academies. Nonetheless, it is equally important to produce student-athletes that can impact the world outside of sports, as not every academy player will set foot on a professional pitch. 
Through student-athletes like Juliano Cobuzzi, Vincent Lipka, and Cristian Rossi, or through international soccer stars like Alphonso Davies and Weston McKennie, the MLS Next academy system is already proving that high-level talent can still be produced with an inherent focus on education. It would not be surprising to see the Canadian or United States Men's national teams make a deep run in a major tournament within the next decade. Just as importantly, it should not come as a shock if an academy athlete is making a profound impact outside the realm of professional sports—they are being trained to do both.