A total of nine different McGill hockey players scored in the span of 60 minutes on Oct. 16, when the Redbirds (1–1) hosted Royal Military College (RMC) (0–1) for the second of six pre-season games. The Redbirds scored early and often, demolishing the visitors with a fatal 10-2 final score.
From the puck drop, it was an intense affair—being only the second game in front of a home crowd, the game was lively and, at times, rowdy. Fourth-year forward and alternate captain Jordan-Ty Fournier took an interference penalty within the first minute, setting a precedent for what became an aggressive matchup, racking up 23 penalties overall. McGill scored four times when the call was in their favour, in contrast to RMC, who failed to capitalize on their nearly 20 minutes of power play time.
The Redbirds dominated the ice in the first two periods, winning face-offs and never letting the puck linger in their defensive zone for too long. After third-year forward Blake Hayward opened the floodgates with a goal on McGill's second power play, McGill converted six more times consecutively. Rookies Brandon Frattaroli, Caiden Daley, and Alex Plamondon tallied once each in their first victory suited up as Redbirds.
RMC's frustration was evident, through both the aggression they exhibited and the time-out they took midway through a five-on-three power play. Despite the advantage, RMC still could not maneuver past the wall of Scott Walford, who was awarded the first star of the game for one goal and two assists.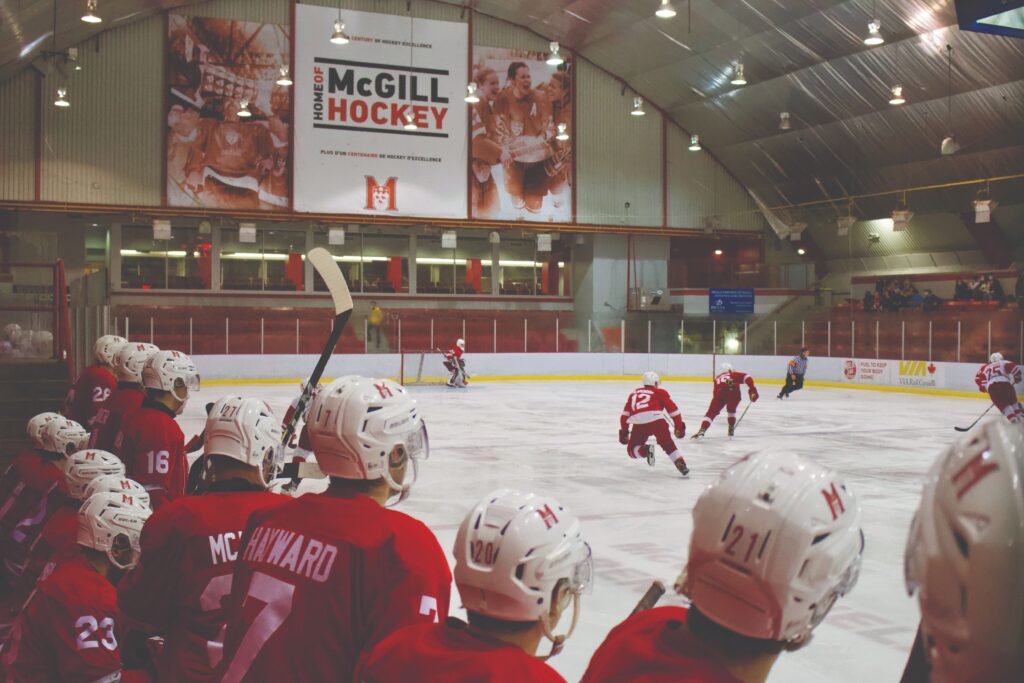 First-year goaltender Lucas Pfeil allowed zero goals on 16 shots over 35 minutes, before first-year Alexis Shank replaced him. Despite only manning the nets for a portion of the game, Shank, a Montreal Canadiens prospect who saved nine out of eleven shots, was optimistic about what the game meant for the team's upcoming season.
"Our […] goal is to go for the cup," Shank said. "But right now we [are just] focussing on the process, and good things [are going] to happen."
Teammate William Cyr, boasting one goal and one assist, was pleased with the team's offensive chemistry.
"I think we battled well together, and we did what we did in practice," Cyr said. "We converged well [at] the net and we took rebounds [….] I think we have a great group, we're having fun out there and just battling every day. We're all working out and working hard, and we'll get better each day."
Cyr was unbothered by the several penalties his teammates took, as the Redbirds killed off every single one.
"Last two games, we had more than 16 penalties," Cyr admitted. "When it's 7-1, 7-2, for sure they will call against us, so it's preseason, it was a good game [for everybody]. We had fun and just battled together, even though we played on the penalty kill like 15 times."
First-year forward Olivier Mathieu, who had one assist, felt that the team accomplished what they set out to do, evidenced by the final score.
"Our coaches have put a pretty good system in to beat those big teams, and I think we executed the system pretty [well]," Mathieu said. "Our coach, during the second intermission, said to make sure we follow the game plan and not to lose our heads."
The Redbirds play their next two pre-season games against rival Concordia, on Oct. 22 and 23, in preparation for the regular season kickoff on Nov. 3.
Quotable:
"The ambiance was incredible. I don't know how many people were there tonight, but on Wednesday, there weren't many people [….] It was actually a tough one, we lost Wednesday, [but we] bounced back. It's just 20 games, we can't afford to lose two in a row. Just winning with the boys, it's actually a pretty good vibe right now." — First-year Olivier Mathieu on playing in front of a crowd again.
Moment of the Game:
Just over a minute into the second period, defenceman William Cyr buried a stunning, but unlikely, long shot from the blue line, bringing the score to 4-0 for McGill.
Stat Corner:
The McGill Redbirds have not scored ten goals in a single game since 2011, when they beat Ottawa 10-5.