The dépanneur, or "dép," is traditionally dimly lit, and its shelves are lined with frayed cardboard boxes of Kraft Dinner, ramen, and exquisitely cheap wine. It is home to racks of gum, chocolate bars, and the occasional school supply. Montrealers rely upon déps for their quick convenience and their unique ability to effortlessly satisfy a moment's need.
Dépanneurs across Montreal are known for their practicality and Four Loko; however, François Ste-Marie, owner of Dépanneur Fancé, aims not only to change this connotation, but to redefine the dépanneur experience.
Nestled in the plateau, along Rue Saint-Dominique just off Avenue des Pins, this dual purpose dépanneur and café embodies a rare industrial warmth, that goes far beyond one's expectations of their local dép. The space has towering floor-to-ceiling windows filling the room with light, crisp bright walls, complete with lush hanging terrariums, and a soft touch of wood panelling. Dépanneur Fancé builds on the everyday convenience store, reimagining it as a stylish café hybrid.
Ste-Marie explained his motivation behind his unique business approach. Ste-Marie's efforts are part of his greater desire to draw upon the classic dép experience while moving away from overused staples by offering alternative culinary essentials and a tranquil café experience.
"I wanted to reappropriate the word 'dépanneur,'" Ste-Marie said. "[A dépanneur is] like a convenience store: It's there for you when you need a little something and you don't want to have to go to a grocery store, or you don't want to go out far. You want to be able to get your bread or your coffee, and you basically go to a dépanneur and they don't have food, they basically only have beer and cigarettes."
Dépanneur Fancé speaks to the growing trend throughout Montreal of dual purpose cafés. In these settings, owners find more opportunity and profit through unique additions to the classic café experience.
Dépanneur Fancé's café side has a local emphasis, evident in its ever-changing seasonal menu. The Montreal-sourced wooden shelves are lined with local gourmet goodies ranging from classic beer to Kombucha Litchi, from organic cereal to gourmet chilli pepper chocolate bars. Ste-Marie tries to avoid the stereotypical dépanneur essentials, such as Cup Noodles, Pop Tarts, and Pabst Blue Ribbon.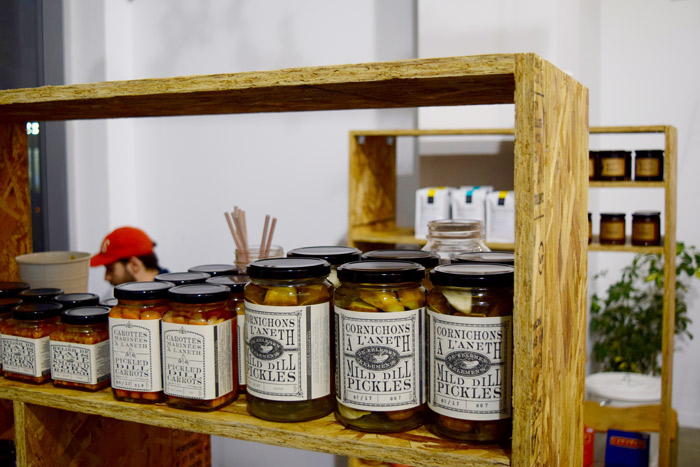 "I'm always looking for stuff that you're not going to find everywhere," Ste-Marie said. "Stuff you're not going to find at a grocery store, specific products. Like small batches [of homemade goods], and that kind of stuff, and mostly local."

Offering delicacies like open-faced shrimp sandwiches, yellow tomato salad, and the 'Iranian breakfast'—consisting of barbari toast with creamy feta and walnuts—the café within the store provides a delicate ambiance to the dép experience while offering the ultimate convenience of a latté hub.

Dépanneur Fancé is ideal in its duality, pushing the boundaries of a typical business' single purpose. It offers the quiet ambiance of a café for studying, serves as a unique brunch spot for friends, and is the ultimate place to pick up last-minute gourmet needs. Dépanneur Fancé has redefined the home of the Four Loko.