Café Leaves
Address: 2051 Rue de la Montagne
Hours: 8 a.m. – 7 p.m. Monday – Friday, 9 a.m. – 7 p.m. Saturday – Sunday
Price: $$
Café Leaves serves vegan food and beverages in a modest setting. This eatery only uses plant-based milk and offers a variety of specialties, such as végé lattés that are prepared from special powders and do not contain any coffee. In addition, they offer amazing pastries, salads, and snacks. Café Leaves is a perfect spot to take Instagram pictures because its decor is aesthetically-pleasing: The walls are painted with colourful flower designs while potted cactuses add a unique flavour to the space. It is not a loud environment, so it is a good studying spot; however, it is quite small, so try to avoid mid-day hours for the best chance to find space.
Wifi?  

 

✓

Laptops




allowed?   

✓

Accessible




outlets?

✓

Quiet?  

✓

Kréma
Address: 900 René-Lévesque Blvd W
Hours: 6:30 a.m. – 5 p.m. Monday – Friday, 6.30 a.m. – 4 p.m. Saturday – Sunday
Price: $$
Kréma's elegant decor sets it apart from most typical coffee shops. Situated inside the Fairmont the Queen Elizabeth hotel, it feels like a common area rather than a closed space. And, with its contemporary interior design, the atmosphere feels more formal than a regular coffee shop. Thanks to its experienced baristas, Kréma's aesthetically-pleasing lattes taste as good as they look. There is also a variety of food and snack choices, including vegan options. The only downside is that the space is not quiet: Working people from the surrounding area come to the café to chat over a beverage, so the space gets too loud to be productive. However, for students who do not need silence to work, Kréma's atmosphere and coffee are worth checking out.
Wifi?  

 

✓

Laptops




allowed?   

✓

Accessible




outlets?

✓

Quiet?  

x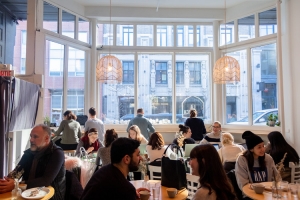 La Finca Café & Bureau
Address: 1067 Rue de Bleury
Hours: 7 a.m. – 6 p.m. Monday – Friday, 7 a.m. – 5 p.m. Saturday – Sunday
Price: $$
This cute café is the ideal spot for students who want to enjoy the food and ambiance as they study. La Finca Café has a warm and welcoming environment with pastel-coloured decorations. It offers a diverse selection of drinks from  coffees to smoothies. The food is comforting, with a menu that includes a variety of pastries as well as healthier options such as salads, sandwiches, and soups. The space is not huge, but there are private meeting rooms which patrons can book for group studying.
Wifi?  

 

✓

Laptops




allowed?   

✓

Accessible




outlets?  

✓

Quiet?  

✓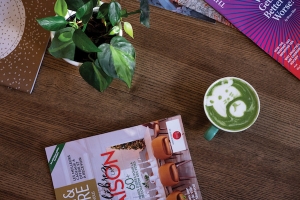 Ambrose Cafe
Address: 3422 Stanley St
Hours: open from 7:30 a.m. Monday – Sunday
Price: $$
Situated in the lounge of Hotel Ambrose, Ambrose Cafe is one of the downtown area's most comfortable spots for studying. The interior design is a mix of modern and mid-century aesthetics, and the space is both elegant and trendy. With a relaxing atmosphere and light music playing in the background, students can easily feel detached from the daily rush. Sometimes, the lighting can be a bit dim, making it difficult to read; however, it does not affect those who study on their computers. This place is ideal for both solitary and group study, as there is a couch for those who want to read their books and relax, and there are shared tables for collaborative work. The café also offers a tasty menu: At breakfast, they serve eggs and waffles, and vegan soup at lunchtime.
Wifi?  

 

✓

Laptops




allowed?   

✓

Accessible




outlets?  

✓

Quiet?  

✓