One would think the expansive, ornate lobby of what was formerly the Royal Bank of Canada headquarters lobby would not make a great place for an experiment. Its church-like echo lends itself to hushed exchanges rather than bold and uninhibited conversation. Its dark corners and maze-like passageways are better imagined collecting dust than housing a small team of start-up innovators. And yet, it's the perfect setting for Crew Collective & Cafe, which is proving to be quite the experimental undertaking.
Founded as a start-up in 2012, Crew Collective & Cafe matches interested businesses and agencies with freelance creative professionals, of which they've established a vast network. In 2014, CEO Mikael Cho decided to reify their successful online business by bringing it into a physical space that acts doubly as a cafe. As the happy brainchild of Crew Co., the company has positioned itself on the front line of the "greatest economic movement since the Industrial Revolution," or so boasts their website.
"The idea was to make a space as multipurpose as possible while celebrating its history," Sophie Silkes, head of Partnerships and Events for Crew, said. "The idea behind using this space was to create an adaptive reuse project and to help open it up to the public so that they are able to celebrate the space, which is really such an architectural marvel."
Crew's versatile space consists of two areas for work: The cafe space, which is set up for individuals to walk in and work, and the collective space, which is only for members. The latter houses rows of large desks with giant MacBooks, clear and sleek meeting rooms, and long grey couches. Members of the collective pay a fee for unlimited monthly access to the space, marked off by only a transparent glass divider. The collective space creates a unique yet productive environment in which freelancers and small businesses meet and operate.
"[Crew's space] is really accessible to people that don't see themselves fitting into the traditional office environment," Silkes said. "We get a lot of people that work in tech space, a lot of independent artists [….] I think a totally diverse set of industries represent themselves really nicely here."
The Crew business model may be a reactive adaptation to the changing workforce, but Silkes would be the first to tell you that it's still very much an experiment. A necessary side effect of innovative projects like this is that they involve substantial trial and error; they must gather data on what works and what doesn't. Silkes says Montreal is the perfect laboratory in which to experiment.
"The cost of living [in Montreal] is pretty low. It's the kind of city that is driven by the creative people that live here," Silkes explained. "Because the city can be easier to live in, I think it's easier to try something out that would potentially be impossible in any other North American city."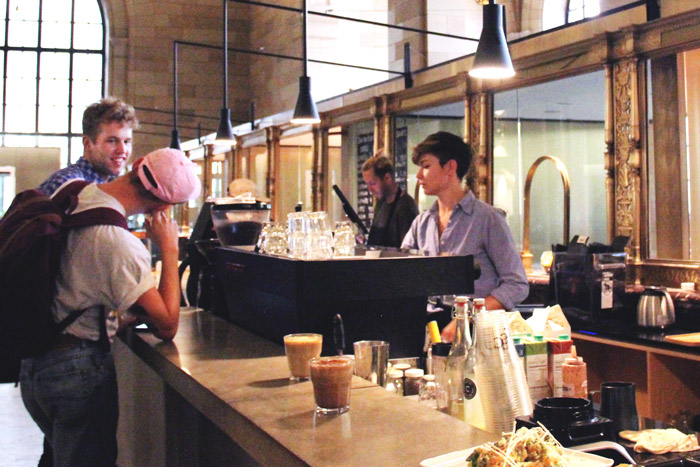 Nearly five months after its inauguration this past May, the experiment could certainly be considered a rousing success. According to Silke, the Montreal community has been very receptive to both the collective and the coffee at Crew. The cafe attracts students from nearby universities, professionals looking for a place to host a meeting, and tourists from nearby Place d'Armes metro station looking for a quick stopover.
Crew is beautifully architectured, and the space flows effortlessly. The details added to the former bank backdrop were included to accentuate what already existed. Relics of old deposit boxes are left on the walls, and darkening bronze contrasts with sturdy marble. Silkes clarifies that the contrasts present in the space are intentional, a product of the company's vigorous architectural process.
No venture is complete without a mission—a definitive reason behind the hours and labour put into the project. Yet, Silkes was coy when asked if Crew had a mission statement in mind.
"I think we are kind of anti-mission statement here," Silkes laughed. "We are more of a walk-the-walk, talk-the-talk type of company."
It looks like the company is looking to let their successes speak for themselves, which is no easy feat. However, with Crew's unique business model, impressively tasty food, and Instagram-worthy space, this innovative venture is set to last.