Hidden away deep in the Mile End, at the corner of Rue Bernard and Avenue de Gaspé, sits a quaint school bus, a glowing skating rink, and, sitting outside the bus, is what seems to be a bar more fitting for tropical Hawaii than wintry Montreal. The café-bar's name is written in bold black letters along the side of the bus: La Petite Floride.
This place is a bright spot compared to the dreary warehouses that surround it. Upon entering the bus, one is greeted by thumping dance music and groups of happy people hanging out with friends and strangers alike by either the fireplace outside or inside the bus itself. This bizarre idea of turning a bus into a café-bar came from the minds of a local non-profit organization called La Pépinière, whose mission is to convert unused urban spaces into creative hubs for the community.
"It was a nice way for us to put winter in a […] place which is warm [and] can have a café. A place we can chill and hang out," Elisa Schneuwly, one of the designers of La Petite Floride, said.
The connection between the elements of the café-bar—campfires, skating rinks, and school buses—and Florida, a state that is home to alligators, palm trees, and Disney World, seems tenuous. However, to Schneuwly, the Florida-esque elements of the café-bar serve as a respite from the winter.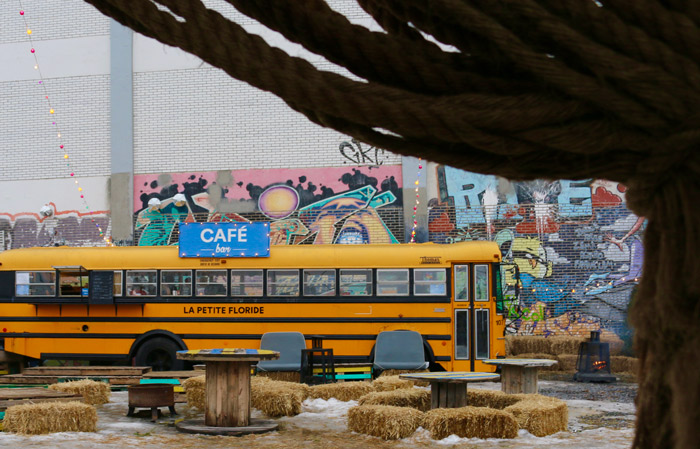 "[The name] is kind of a joke," Schneuwly said. "It was because a lot of people from Quebec and Canada go to Florida for the winter and we were like, 'Why don't we think of a place where you can […] have fun and hang out? It's an escape [from] winter for people who have to stay in Montreal."
La Petite Floride is not a café-bar in its most literal definition, but rather a public space made for and by the community in the Mile End and Rosemont. Its creation was the result of a collaborative project between Schneuwly's team and La Pépinière, along with the neighbourhood of Plateau Mont-Royal and Les Amis du Champs des Possibles, to develop an unused piece of land called Agora des Possibles.
"It's a meeting place, a cheap place for people to meet from Mile End and Rosemont [….]," Schneuwly said. "We're doing this project for people in the neighbourhood mostly. But also, people everywhere from Montreal [….] This is a design for the community."
La Petite Floride was open in December 2016 and will be open until the end of March, a season in which most Montrealers would rather stay home than face brutal -30 degree celsius weather.
"There is a lack of animation and of things happening in the winter. Except huge projects like Igloofest [and] things at Quartier-des-Spectacles," Schneuwly said. "At Mile End and Rosemont, there's nothing really going on. So, we wanted to do something here in the winter, cause we see [other neighbourhoods] in Montreal do something there in the winter."
The bus at La Petite Floride is a tight space, and this limits the size of their menu. Even so, they excel within their limited means. They have made this unconventional and narrow space very hospitable—every customer is greeted by friendly staff. Their small menu, including gooey grilled cheese and craft beer, is a great complement to a weekend get-together with friends and is definitely worth the short bus ride on the 55.
A previous version of this article incorrectly stated that the owner's and staff have a dog called Duda who greets customers.