Sweet-and-spicy roasted tofu and squash (vegan)
Squash never fails to bring comfort and delight. This recipe is an ode to the vegetable in all its curvaceous glory, which together with baked tofu makes for a protein-rich addition to a bed of rice or spinach.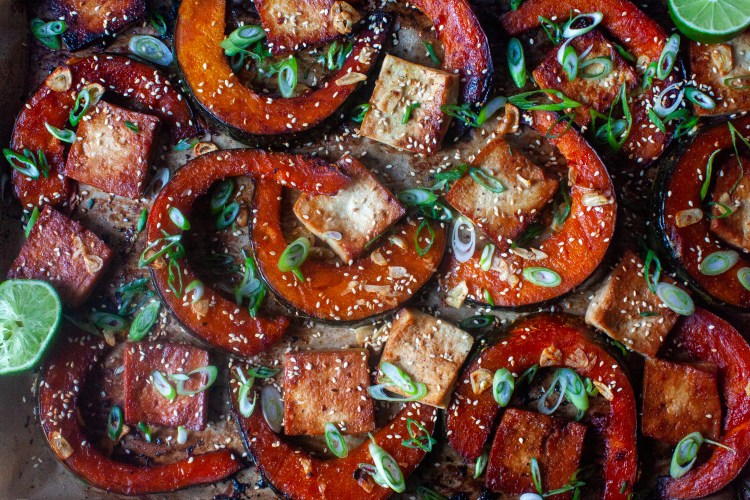 Squash never fails to bring comfort and delight. This recipe is an ode to the vegetable in all its curvaceous glory, which together with baked tofu makes for a protein-rich addition to a bed of rice or spinach.
Ingredients
1 block extra-firm tofu
2 lbs acorn or butternut squash, halved and seeded
1 ½ tablespoons soy sauce, more to taste
1 tablespoon sriracha or other hot sauce
¼ cup peanut oil
2 tablespoons maple syrup
1 tablespoons toasted sesame seeds
2 tablespoons chopped cilantro for garnish
Steps
Preheat the oven to 425 degrees fahrenheit. Slice tofu into 1/2-inch-thick slabs and cut squash into 1/2-inch-thick half-moons. Cut each slice in half again.
In a small bowl, whisk together soy sauce, sriracha, and a pinch of salt. Whisk in peanut oil. Spoon three tablespoons of the mixture into a separate bowl and set aside for later. Whisk maple syrup into the original mixture.
Sprinkle squash lightly with salt and pepper and toss well. Spread slices of squash out on a large baking sheet lined with parchment and pour the maple-soy mixture over it. Roast for about 20 minutes or until golden. Flip the squash and roast until uniformly golden and soft, around 10 minutes more. Transfer squash to a large bowl.
Adjust the heat to broil and position a rack just below the heating element. Toss tofu with reserved soy mixture and arrange in a single layer on a baking sheet (you can use the same one you used for the squash). Cook until crispy and golden, about two minutes on each side. Toss hot tofu with squash and sesame seeds, adding more soy if desired.
Hot tip: Try adding other seasonal vegetables like sweet potato, beets, or Brussel sprouts alongside the squash to make your plate a rainbow.
Creamy Mushroom Ramen (Vegan)
'Twas the night before midterms, so it's crucial to always have a quick meal on hand. Enter: Instant ramen. Ready in under 15 minutes, this recipe is elevated by an unlikely but budget-friendly ingredient: coconut milk! Be sure to use the full-fat kind to ensure the broth is rich and creamy.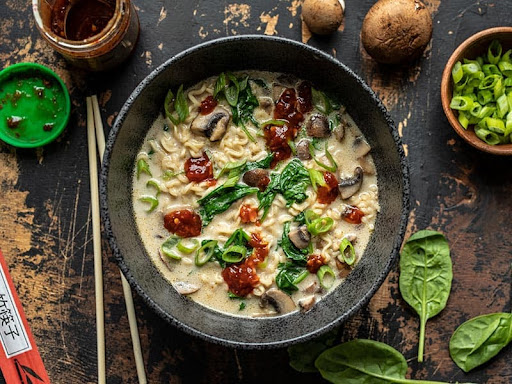 Ingredients:
1/2 tablespoon vegetable oil
4 oz. mushrooms, sliced
1.5 cups vegetable broth
1 handful fresh spinach, or frozen equivalent
1 package ramen noodles
Optional Garnishes:
1 green onion, sliced
1 tablespoon sriracha
Steps
Add oil and sliced mushrooms to a small sauce pot and sauté over medium heat until the mushrooms are soft and dark, and all the moisture at the bottom of the pot has evaporated.
Add the vegetable broth, turn the heat up to medium-high, and bring the broth up to a boil. Once boiling, add the ramen noodles to the broth. Cook the noodles in the boiling broth for about 3 minutes, or until tender.
Turn the heat off, add a heaping handful of fresh spinach, and stir until the spinach is blanched (about 30 seconds). Pour the coconut milk into the pot and stir to combine.
Optional: Garnish with green onion or sriracha.
Hot tip: Toss in any leftover veggies, like carrot or beans, before adding the noodles to clean out your fridge and add more substance to the broth. For non-vegans, try topping your ramen with a fried egg.
Golden Apple Crisp
Take advantage of the apple harvest season by making this non-finicky apple crisp. An autumnal staple, each spoonful will be a perfect combination of crunchy oats and pillowy apple.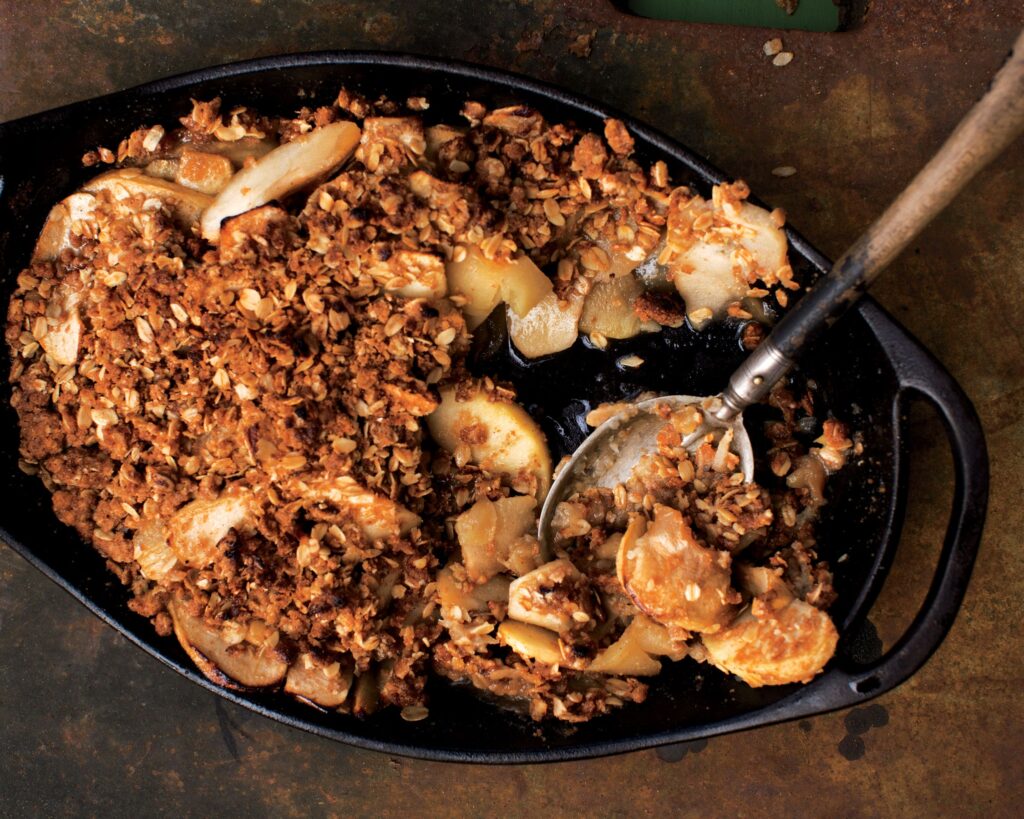 Ingredients:
6 medium-sized tart apples, peeled and sliced (Pink Gala, Lobo, Spartan, McIntosh, etc.)
½ cup packed dark brown sugar
6 tablespoons unsalted butter, melted
¾ cup old fashioned oats
⅓ cup whole wheat flour
½ teaspoon ground cinnamon
½ teaspoon kosher salt
Optional:
​​One handful each of black and white sesame seeds
Steps
Preheat the oven to 350 degrees fahrenheit. Mix apples, ¼ cup brown sugar, and 2 tablespoons of butter in a baking dish.
Mix oats, sesame seeds if using, whole wheat flour, cinnamon, salt, remaining ¼ cup of brown sugar, and remaining butter in a bowl until no oats are dry. Sprinkle oat mix on top of apples and bake until golden brown on top, around 50 to 60 minutes. Let cool for 10 min.
Enjoy hot from the oven or with ice cream.
Hot tip: If you are far from a microwave, pour some fresh coffee on top of the crisp for added warmth and a subtle bitter note.
These recipes are adapted from the following sources: Roasted Tofu and Squash, Creamy Mushroom Ramen, Apple Crisp.