Shoes don't often scream your name from across a crowded room. Unlike the peacockish hat, the ostentatious bifocal, or the presumptuous earring, the humble shoe does not boisterously salute you at eye-level. Often concealed, or at least partially so, by a brashly uncuffed pant leg, shoes maintain a measured distance from gaudy exhibition. Enter into the equation Montreal's snowy winter climate, and practical concerns can obscure even the faintest memory of the elegance footwear can offer.
Every once in a blue moon, however, a pair of shoes saunters into your life and changes everything.
I present to you: Armie Hammer's shoes in Call Me By Your Name (2017).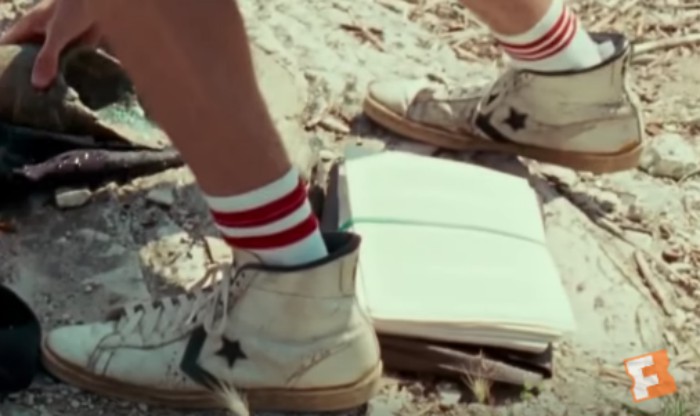 Wow! Look at those things. The shoes.
One more time. (Enlarged for detail)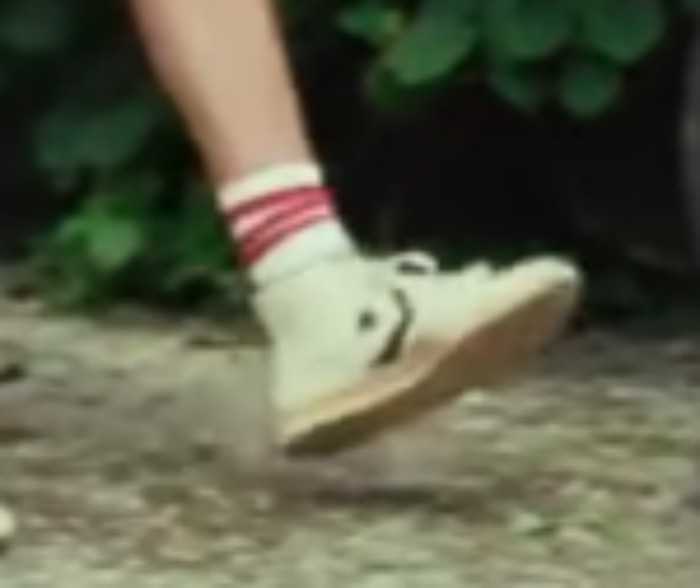 Seemingly eons removed from previous appearances sporting bad earmuff things (2012's The Social Network) and as a black car (2017's Cars 3), Hammer's CMBYN look exudes a sensuous bravado befitting his character's strapping confidence.
With a billowy Ralph Lauren shirt unbuttoned to reveal a Star of David chain dangling between chest hairs, and short khaki shorts fastened with a brown leather woven belt, Oliver's (Hammer) wardrobe introduces the American exchange student before he even has the chance to make you blush with a (probably really firm) handshake.
Call Me By Your Name is visually gorgeous across the board, but these shoes are just plain unfair.
I wasn't alive in 1983, when CMBYN is set. I guess I also don't know if these shoes were the 1980s cool-dude-norm. I do know that I will never purchase a pair of Converse after seeing Armie Hammer and his shoes in this movie. They'd look dumb on my stupid feet. Can you even buy Converse that look like that anymore? What happened between 1983 and now that can explain Converse going from Oliver's bombastic elegance to this? (edit: I guess a lot of things)
Maybe it's a gay movie for straight people. Maybe it's problematic to laud an idyllic queer film when as a culture we have repeatedly dismissed more confrontational queer cinema. Maybe these questions would be better addressed by someone less fixated on one very specific detail of the movie.
Watch the dance scene, a focal point for many critics' praise of CMBYN. Watch it a few times if needed, you earned it. Put it on 1080p. Turn off nightshift. Shoes are visible from approximately 0:02-0:06. Though exhilaratingly brief, this is perhaps the best look we get at the shoes throughout the movie. Shuffling and kicking to the Psychedelic Furs' 1982 hit "Love My Way," the shoes seem to refuse the normative constraints of rhythm or tempo. Paired with classic red striped gym socks, Oliver's below-knee outfit presents a tattered, sexy American flag, not staked in some Midwestern lawn, but sashaying across a cracked granite Mediterranean dance floor.
For a long, forgettable stretch of the movie, Oliver ditches the Converse for some brown, low-heel, slip-on shoes. I don't remember much from these scenes. Thankfully, in his final moments on-screen, the shoes make a triumphant, if heartbreaking, reappearance.
This isn't to take anything away from such classics as Buggin Out's scuffed Jordan IV's in Do The Right Thing, Bruce Lee's Yellow Onitsuka Tigers in Game of Death (later homaged in Kill Bill), or Bill Murray's adidas Roms in The Life Aquatic (or his Air Wovens in Lost in Translation for that matter). I have heard compelling arguments for Forrest Gump's Nike Cortezes. But Armie Hammer's CMBYN Converse make these shoes, and all other shoes, or boots, or clogs, for that matter, look like Skechers Breathable Lightweights.
I walked out of CMBYN barefoot, carrying my shoes before they clunked into the garbage can. The snow was cold, and the road salt burned, but a numbness quickly set in that dulled the pain long enough for me to get home. I quickly disposed of mine and my roommates' remaining footwear in our kitchen garbage. I don't deserve to wear shoes. To try and place myself even in the same arena as Armie Hammer in CMBYN. I'm missing class. I haven't left my apartment in days. I overheard my roommate calling my parents about me and my "really weird and uncomfortable Arm and Hammer thing" the other day. These feet are a prison. Shoes are the guards. Armie Hammer in CMBYN is my lone weekly phone call. Or something. I don't know. No one understands. Help