My beloved friend Isabella Guerrico, U3 Arts, passed away in a sudden accident on Thursday, Nov. 15. We will remember Izy, who was beloved by many in the McGill community, for her fiery and generous spirit.
When I moved into Gardner three years ago, I had no idea what was in store for me. I thought I would make new friends, have fun partying, and learn a few things in school, but I had no idea that I would meet some of the most important people in my life. Izy was one of those people. For a while I just knew her from afar by her bright turquoise hair and  cool tattoos and piercings. Her style was absolutely iconic. Before long, I could tell that she was something really special. She had this amazing ability to be completely herself and very independent, but at the same time make others feel included.
As I know many people from Gardner that year fondly remember, in the first months of school, when it was still warm enough outside, we would all sit on the stoop and smoke and talk and talk and talk. Izy had an amazingly loud voice and a laugh that drew me in. She had so much energy and passion for whatever she talked about, and she made me feel like it was okay to be myself, and be myself as loudly as possible. She would probably be embarrassed that I'm saying that she was loud, but I loved that about her. Izy was one of the most social people I knew. She always wanted to be out there in the world, in the centre of it all, experiencing things as fiercely as possible.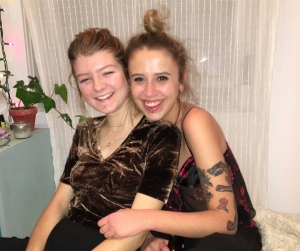 Although Izy was extroverted in some ways, she was also shy about certain things. I didn't know the extent of her passion for music until we were in a music history class together in third year. I learned that Izy was a cellist and a singer and had toured with her orchestra and choir in high school. We would study together at her apartment and listen to the Lord of the Rings soundtrack. One time we watched the Mozart movie Amadeus together, which is one of our favourite movies. Then, the next day, she told me she watched it over again! That movie is three hours long! I laughed but was not surprised. Izy was always doing things like that. Just the other day, she bought and started reading a very large book about the history of soccer tactics. She was so passionate about the things she loved, whether it was her family or her favourite soccer team, FC Barcelona
When Izy became my roommate at the beginning of this year, I wondered how I had ever lived without her. In the morning, she would always emerge from her room and say good morning, with a smile already on her face. She had such a beautiful smile. It truly radiated from her whole being and always put me in a good mood.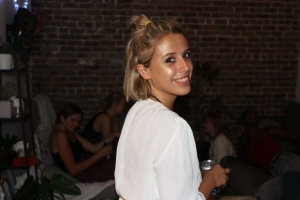 It's impossible to write down all the things I want to remember about Izy. She had the funniest expressions and reactions to things. While I cooked, she would hang out with me and do funny little dances—'jigs,' we always joked. In fact, we had to make a rule against jigs because it was too loud for our downstairs neighbours. Only quiet jigs allowed! We both had the habit of singing or humming to ourselves, and I loved how I would pick up on whatever she was singing, or she would do the same, and we would quietly sing together.
Izy loved very spicy hot sauce and coffee. She loved watching T.V., everything from Fargo and Curb Your Enthusiasm to any and every soccer game. She loved reading. One of her favourite books was The Brothers Karamazov. Izy spoke Spanish and often talked about moving back to Spain, where her family lives. We always talked about what kind of dogs we would get when we were old enough. Izy said she would never get married or have kids, and, instead, have three or four huge dogs, maybe a German shepherd, a dalmatian, and a cockapoo like her dog at home, Gus.
Izy, I will miss you forever. I can't believe you won't be graduating with me this year, but whatever the future brings, I promise I will try and live by your light. Thinking of you, I will push myself to live and love hard and bright, like you did.