The Packed House
On March 25 and 26, over 47,000 fans packed into the Olympic Stadium to watch the Toronto Blue Jays and Milwaukee Brewers finish up their Spring Training schedules. This series marked the sixth straight season that the Toronto Blue Jays played a set of games in Montreal. And, now, for the sixth straight season, baseball fans who dearly miss their beloved Montreal Expos came to cheer on Canada's sole baseball franchise in Montreal.
In a pre-game ceremony celebrating the Expos' 50th anniversary, team legends paraded out from centre field, and, in an annual tradition, former star pitcher Steve Rogers made an appearance to express support for bringing baseball back to Montreal.
"It's not like you have to manufacture some belief in it," Rogers said. "It's been demonstrated certainly. The question will be, 'Is this sustainable for [a] 162 game season, 81 at home?' I think it's been demonstrated that, [for] over six years, the interest is here, and I'm excited for the possibilities."

Charlie Montoyo
Charlie Montoyo had been to Montreal before, but in a different capacity. The Blue Jays manager earned his first big-league hit in his brief playing career at Olympic Stadium. In an interview with MLB.com's Alexis Brudnicki, Montoyo recalled his time in the city.
"I'm never going to forget," Montoyo said. "I had my first hit of two here in the big leagues. So, that's a memory I'm always going to have [….] This place has been great to me. It was a fun time for me here, and, now, it's a fun time to come back as a big league manager, so it's great."
Rogers threw his support behind Montoyo.
"He's one of those good guys out there," Rogers said. "He's proven himself in the industry, and somebody might say 'Well, that Charlie, he's lucky.' Well, no, he's worked his rear end off, and he's a great baseball man. And, also, he's a great guy. Always has a good time, always got a smile on his face [….] I understand it's a new group, the players that are going out on the field […. I hope] that everything starts to gel and that [that] smile stays on his face all year long."
As Montoyo built familiarity with his new role and his young team, he handled one tough matter on March 26: Sending players who had not made the Opening Day roster down to the minor leagues.
"You can see it in their faces that guys are disappointed, and guys [who made it] are happy." Montoyo said. "[This past half-hour after the game] was just like that, disappointment and happiness. But, that's part of the game."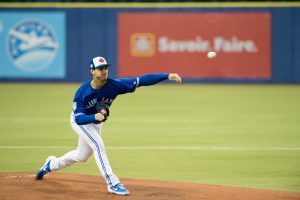 Thomas Pannone
Left-handed pitcher Thomas Pannone was one such player looking to earn his spot on the roster. He started the final game and pitched two scoreless innings.
Post-game, Montoyo gave him the good news. Speaking to reporters, Pannone discussed his mindset throughout the game.
"I had a lot on my mind," Pannone said. "I wanted to make this team so bad. I was obviously under a little bit of pressure. I just wanted to come out and continue to perform and continue to get better and show them that I'm ready to play in the big leagues."
While Pannone is used to starting, he made the final Blue Jays roster as a reliever.
"He can give us length, and he could also come and get left-handers out," Montoyo said. "He'll give me more matchups, [and] it'll be easier to manage with another left-hander in the lineup."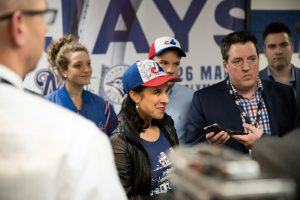 Valérie Plante & the future of Montreal baseball
Part-way through the Tuesday game, Mayor Valérie Plante spoke to reporters, responding to questions about the future of baseball in Montreal. Every year the Blue Jays play Spring Training games in the city, the possibility for a franchise grows stronger. This event is not about the Blue Jays, and it is not about the Brewers. It is—and has always been—about the Expos.
"The idea of having a baseball team here in Montreal is great news," Plante said.* "Some might ask whether it's a good use of money, […but], seeing as the promoters have not asked us for a cent, we're going to support them in this project using the tools already available to the city without asking Montrealers for more money. That's why I can go into this project with a smile on my face."  
Stephen Bronfman—the son of former Expos owner Charles Bronfman—is making strides toward securing land for a new, privately-financed stadium located at the Peel Basin. Plante, who visited the site with the mayor of Sud-Ouest, on which the land is located, explained her role in the team's development to reporters.
"As an administration, we've invested a lot in developing neighbourhoods," Plante said.* "Where we can best support a project like a stadium is at the infrastructural level. [The Peel Basin area] has minimal infrastructure […] and at the level of planning public transport [.…] It's something in which we have expertise, and it's something that we support enormously as an administration."
Former Expos, like pitcher Tim Burke, value the Bronfman family's role in Montreal baseball.
"I talked to Stephen [Bronfman] this morning, and I just told him I really appreciated what he was doing, but I also told him to tell his dad how much I appreciated him when he owned our team back in the day," Burke said.
At the end of the day, the message came back around to the viability of baseball's return to the city. With other teams failing to fill the stands, former Expos outfielder Larry Walker echoed the sentiment that Nos Amours should return.
"You never know," Walker said. "I've been saying it the whole time here, the team was here some 35 odd years, and you don't keep a team around that long because they were not succeeding or not performing. There [are] other teams in the major leagues right now that don't draw fans and, in my eyes, shouldn't have a team. Why not bring back one that was here for over three decades? It would be a nice thing."
*This quote has been translated from its original French.