Tucked away at the corner of Duluth and Saint-Urbain, Café Santropol has a delicious selection of food for all tastes and preferences; coffee for overworked university students, delicious sandwiches and salads for park-goers, and decadent cakes for those with a sweet tooth. Since it opened in 1976 to save the building from being demolished, the cafe has turned itself and its sweet, brown bread into a local favourite.
Though its extensive variety of dishes, including vegetarian and vegan options, guarantee the discontentment of the late Anthony Bourdain, Café Santropol's menu offers a refreshing meatless twist to Montreal's sandwich scene, too often saturated by steamies and smoked-meat sandwiches. The cafe is home to the iconic "Duluth Sandwich," which features a brilliant blend of honey-caramelized onions, sharp white cheddar, and sweet pears to highlight the boundless opportunities of vegetarian sandwiches. Here's how to make it yourself.
Yields one sandwich
Ingredients: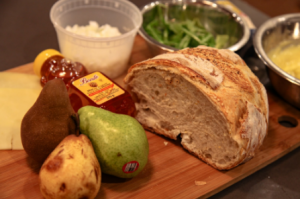 2 slices bread

1/2 onion

1 pear

1 cup arugula

2 slices white cheddar

2 tablespoons butter

2 teaspoons honey

Salt and pepper to taste

Mayo/Vegan Mayo
Optional:
Tomato

Bacon

Homemade mayonnaise:

2 egg yolks

2 teaspoons lemon juice

1 teaspoon Dijon mustard

2 cups canola oil (or any other neutral oil)
Step 1: Caramelize the onions
Finely dice the onion. If you are uncomfortable finely dicing, shave the onion into long strips. Place in a pot with 2 tablespoons of butter over medium heat. Slowly caramelize the onions for 25 minutes, stirring every once in a while until they are browned and a rich, jam-like consistency.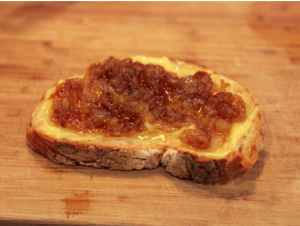 Transfer to a bowl and add honey. Mix until incorporated. Season with salt and pepper to taste.
Step 2: Choice of bread & mayonnaise
To recreate this classic sandwich, your choice of bread and sauce are of prime importance. While you could buy a dark Russian rye loaf to emulate the restaurant's creation, this is a wonderful opportunity to try baking your own bread. You could use J. Kenzi Lopez-Alt's no-knead bread recipe, as I did for this recipe, or even make the sandwich with Focaccia. Similarly, try to make your own mayo.
Homemade mayo:
Add egg yolks, Dijon 
mustard, and lemon juice into a bowl. Slowly drizzle oil while quickly whisking, creating an emulsion. Season with salt and pepper to taste.

Tip: Make a nest for your bowl with a kitchen towel so that it stays in place when whisking.
Step 3: Assembling the sandwich
Toast both slices of bread and spread a generous layer of mayo on each. Spread caramelized onions over on top, and pile on the cheddar. Next, lightly season arugula with olive oil and salt before placing on top of the cheese. Top your sandwich with sliced pears. Using a variety of local, fresh pears will add interesting sweet and bitter notes, creating a more intricate balance of flavors. 
You can insert any additions as you please. Here, I decided to add tomato in one half, and bacon in the other.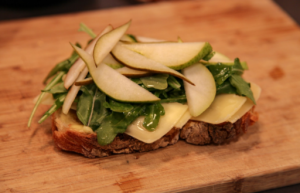 Enjoy your easy, week-day lunch or snack. The caramelized onions blend wonderfully with the pears and the mayonnaise, while the arugula provides a kick of acidity. You can make the sandwich with many other ingredients, such as boiled eggs, apples, ham, etc.