With Montreal's abundance of cafés, it can be extremely difficult to pick one to go to in order to get some studying done. As it is always frustrating to get to a café only to discover it is not the kind of atmosphere in which you work best, The McGill Tribune has compiled another short guide to cafés for people of all different study styles—this time, in the Plateau area.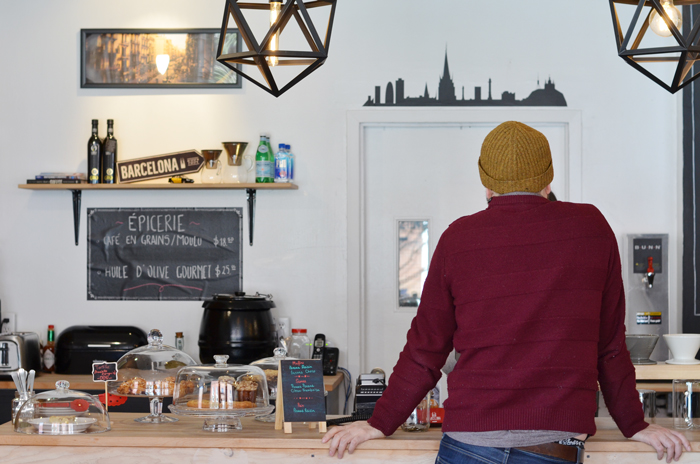 Address: 80 Avenue Duluth E
This Spanish-inspired café is an ideal place to dive into your books during midterms. Located on the pleasant Avenue Duluth, this café is not too busy, making for a calm atmosphere that is great for a long day of intense studying. Barcelona Bar Espresso has strong Wi-Fi, large tables, and many power outlets spread across the space to ensure a steady laptop charge for a full day of studying. This spot serves reasonably-priced home-brewed coffee ranging from two to four dollars. Their food menu includes substantive meals to keep you going all day, with traditional spanish dishes such as spanish omelettes, pan con tomate y tortilla, soups, and sandwiches. The price range for food is closer to $10, which can be a bit expensive for a student budget, especially when you're tempted to taste from their wide range of delicious options. This study spot is perfect for working on readings, as sitting at the benchside window provides a nice view that, when paired with some relaxing music, can make dense textbook pages seem less dreadful. The counter space along the window is large enough to allow you to spread out your work in front of you. Overall, this is a great café, but because it faces a portion of Avenue Duluth that becomes rather isolated in the winter, I found the atmosphere a bit too quiet and uncomfortable.
Yelp rating: 4/5
Tribune rating: 4/5
Address: 151 Rue Rachel E
Upon entering Café Névé, you will undoubtedly feel welcomed by the friendly staff, relaxing ambient music, and the scent of coffee and toast. Because this café is located on the bustling Rue Rachel, it is a pretty busy spot, filled with the sounds of coffee machines and people. Buzzing with energy, this café might not be ideal for intense work that requires heavy focus, like essay-writing, and is a better choice for doing lighter work, such as sending emails or reading short articles. Though Névé is known by locals for its avocado toast, nutella lattes, and cookies, with food options ranging from eight to twelve dollars, this café has a full, diverse menu that also includes banh-mi sandwiches and large salads to keep you energized and focused all day. As this café does not have many outlets, you should make sure to charge your laptop and phone before going or print out your work in case your computer dies. However, the café has Wi-Fi and many different seating options such as sofas, large tables and counter seats against the window to make any type of worker feel comfortable regardless. While window seats can be distracting for those who tend to lose focus on their books by what's going on outside, it is perfect for those who like to work in sunlight.
Yelp rating: 4/5
Tribune rating: 5/5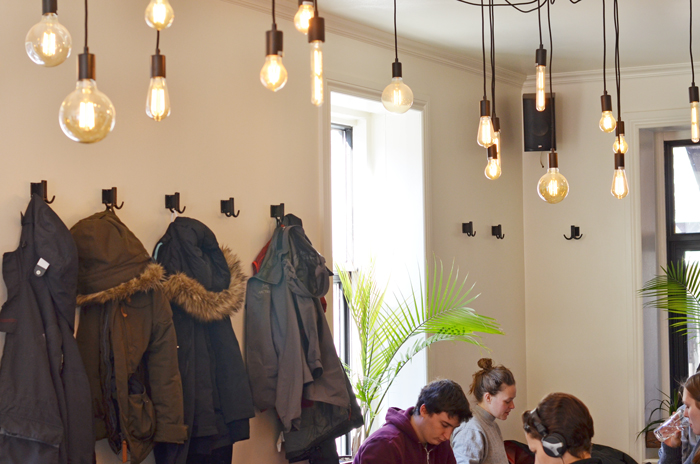 Address: 4627 Rue St-Denis
Although it is located right on the bustling Rue St-Denis, Café Myriade maintains a very calm environment. With good lighting and many large tables allowing you to spread your books and devices out, this is the ideal spot to settle down with your books and do some studying. This café also has fast internet and many outlets, making it perfect for spending the day doing the research and writing for an essay. With lots of small pastries, such as banana bread, vegan muffins, and croissants and reasonably priced coffee ranging from two to four dollars, this café is good for a quick bite. Yet, Myriade's menu does not include many full meals, which could leave visitors running on empty after a few hours of work there. Although this café has all the amenities to keep those who like studying in silence focused all day, it was not my cup of tea, as I found the quiet atmosphere too harsh. However, this café earns bonus points for its patio, ideal for doing readings once the weather warms up.
Yelp rating: 4/5
Tribune rating: 3/5
Address: 123 Avenue Mont-Royal W.
Overlooking Parc Jeanne-Mance, this café provides a cozy atmosphere with bright lighting and calming music to make even the toughest assignments seem manageable. The counter seats by the window provide a great view of Avenue Mont-Royal while studying, but these fill up quickly throughout the day, so it is wise to arrive early to grab one. Café Plume has the widest variety of coffee drinks among this selection, all ranging from two to five dollars, as well as filling meal options, such as soups, Fairmount bagels, and their own local favourite fresh-baked chocolate chip cookies. Along with its cute window seats, outlets, and speedy internet throughout the café, which makes this spot great for doing online research, sending emails, and other Internet-heavy work. However, the tables are all pretty small, which can feel constricting. In addition, on weekends, laptops are only allowed at the counter seating at the front of the café, so I would advise bringing a pen, paper, and print-outs of your readings in case it's busy.
Yelp rating: 4.5/5
Tribune rating: 4/5
No matter where you choose to get your studying done, it's always a good idea to get out and explore your neighbourhood establishments; you may discover some of the hidden gems that the Plateau, and Montreal, have to offer.