CINKO, a resto-bar located in Montreal's Quartier Latin, boasts a wide variety of dishes at only $5 per dish. To try out this seemingly too-good-to-be-true deal, The McGill Tribune's Student Living team swung by during CINKO's Saturday lunch hour, analyzing flavours and evaluating quality.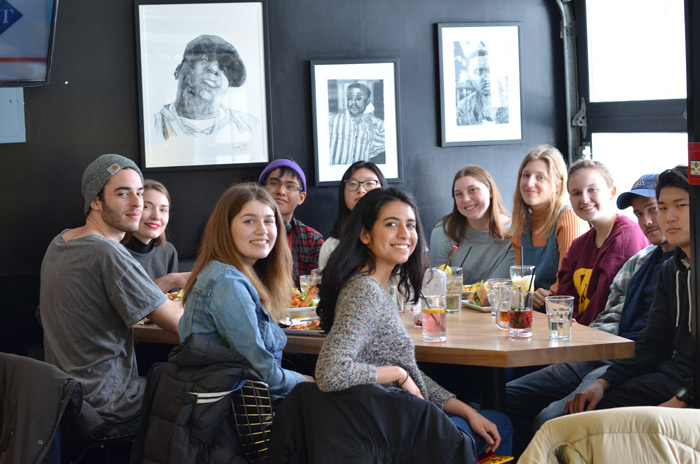 ---
Poutine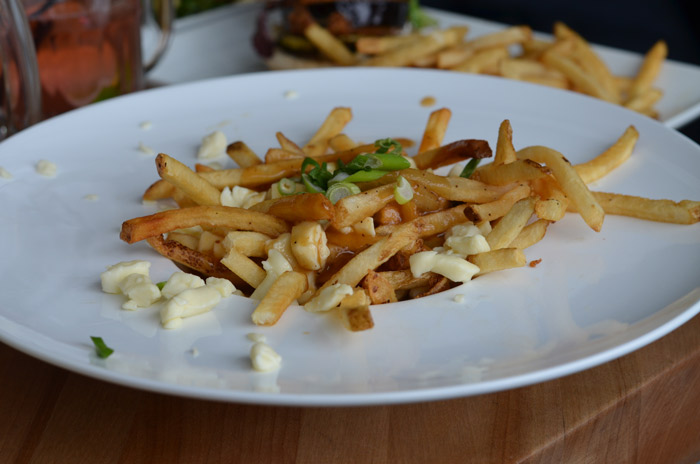 While at first CINKO sounds like a great option for students looking for a cheap meal, there is a bit of a catch. As the waitress claimed, the restaurant operates under a pub license, not a standard restaurant license. Because of this, you have to buy a drink if you want to order food. This can raise your bill significantly depending on your choice of beverage, though the rosé sangria was worth it.
As for the food itself, the poutine was tasty. The fries were just crispy enough without moving into crunchy territory. The cheese curd to gravy to fry ratio was perfect, with the right amount of sauce to last until the final fry was consumed without making them soggy. The dish was well-salted, too—no one component overpowered another. The gravy was on the thinner side and had a distinct chicken taste to it, which wasn't necessarily a bad thing, just different from what I'm used to. My only complaint was the size of the meal. It came in a shallow dish, which made it look larger, but the poutine definitely was a smaller portion than other options on the menu. That said, after eating, I felt satisfied without being stuffed full.
By the end of the meal, the bill came to just over $15. It was reasonable for a lunch out, but more than I expected to spend for poutine at a place whose name literally translates to "five." While I enjoyed the food enough, in the future I would rather go to another spot where I could just get the dish I want without the added cost of the mandatory drink.
– Eloise Haliburton
Smoked Salmon Risotto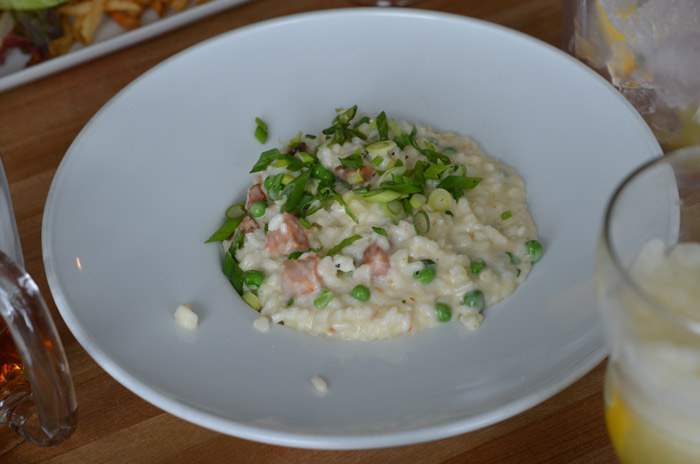 The smoked salmon risotto was presented in a flat bowl and garnished with green onions and peas. It looked remarkably professional given its low cost, and it had a decent consistency. It was obvious that the line cook who prepared this dish gave a damn about his or her end of production. It's hard to say the same about the diligence of the restaurant's executive chef. The salmon was overly salty and dominated the taste of the entire meal. The salmon was dry to the point that it required a considerable amount of chewing—the cheap meat distracted from the actually decent rice and broth. This dish was an ambitious arrangement blown off-course by its low-cost ingredients. But, what else would you expect for a five dollar dish?
– Daniel Griffin
Classic Burger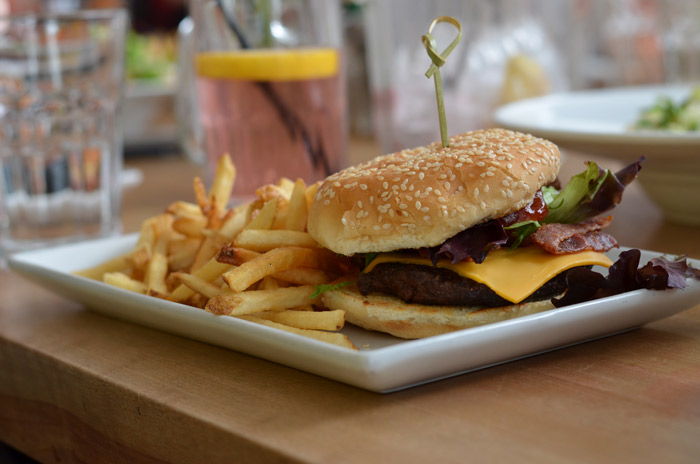 Overstimulated by the decorative choices of CINKO, especially the wall of protruding and detached soles of Vans sneakers, I decided on a safe and canonized choice: The burger. In size and form, it reminded me of a McDonald's burger and fries combo—though the bun was adorned with a garnish of lettuce, pierced by a bamboo stick to hold the sandwich together. My first impression was a mouthful of starch, though as I ate, I began to notice finer details of my meal. The beef patty complemented the slightly toasted bun, the lettuce and tomato contributed a sweet freshness and moisture, and the garlic aoli, bacon and American cheese exaggerated the salt profile. In other words, it just tasted like a burger.
– Makoto Wakabayashi
Ciabatta Sandwich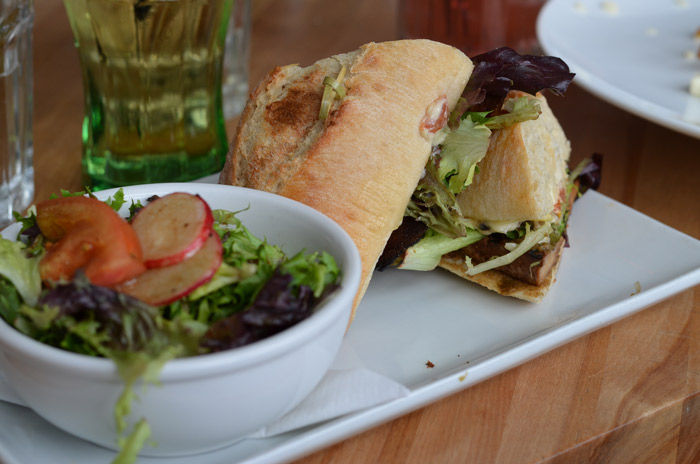 CINKO served up a superb meal that only costed five dollars before additions. After ordering my mandatory drink—I went with ginger ale—it took no time at all to decide on something tasty. Before I knew it, a lovely tofu ciabatta sandwich was right in front of me. I am a huge fan of bread, and this sandwich did it in for me. But the additions of grilled tofu, pico de gallo salsa, fried artichoke sauce—which was amazing—and guacamole perfectly complemented the thick ciabatta roll, and each bite delivered a wonderful mixture of the ingredients. It was a light but satisfying sandwich, and a near-perfect vegetarian option. I would have liked a little more guacamole on the sandwich, but all in all, CINKO offered an enjoyable atmosphere and simply delicious food.
– Grace Bahler
Tofu Chili & Chevre Salad
[metaslider id=51988]
Though I received both at the same time, I began my meal with the tofu chili. The dish came with slices of naan bread, which I used to scoop up the chili as I ate. Though this was a nice touch, the chili itself fell short of spectacular. Its flavour was average and its consistency was a bit odd. The tofu was broken into small cubes that were overly marinated and they were not integrated smoothly into the rest of the chili. On the other hand, the chevre salad made for a beautiful—and delicious—meal. The ball of chevre was fried and served atop lightly dressed mixed greens, with two slices of toasted bread. Though I immediately spread the cheese on the bread, thus leaving the greens to be consumed on their own without chevre, the bread and cheese were both cooked perfectly. I quickly forked up the salad portion; however, it was small, so I'd recommend this meal as a side dish, not a main.
– Audrey Carleton